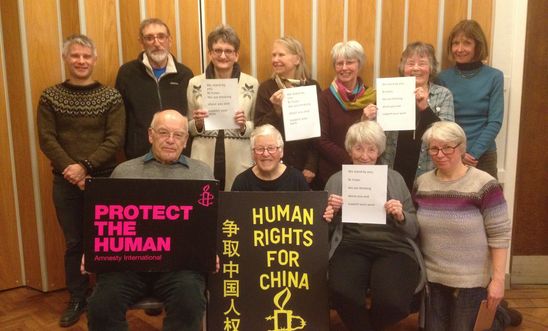 Chipping Norton Group Members supporting Human Rights defenders in China
A well-attended AGM heralded an action-packed 2018 for our Group!  We started by posing for photographs to tweet to Ni Yulan, a Housing Rights activist in China (see our recent tweets on @chippyamnesty).  Ni Yulan's case has been highlighted by AIUK in the recent Write For Rights Campaign.  She has defended Beijing residents against forced eviction for nearly 20 years, despite harassment, surveillance, restrictions on her movements, detention and physical attacks. She has used a wheelchair since being badly beaten by the police in 2002.
We are now busy planning our 2018 programme of meetings and events. Our next meeting is on Thursday 8th February in Chipping Norton's Lower Town Hall, starting at 7:30.  Do come if you can!
View latest posts