Thank you Woodstock and Chipping Norton!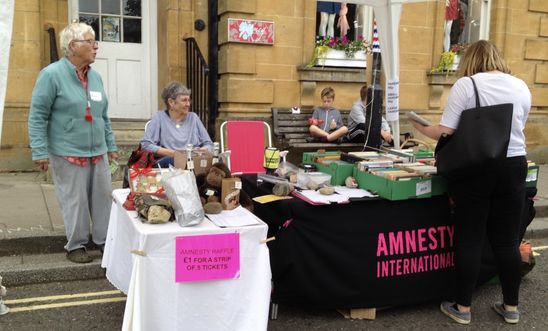 Heather & Kaye minding our Amnesty stall at Chipping Norton Festival
With secondhand books and raffle prizes on display and a petition to sign to help release a Prisoner of Conscience, our Amnesty stall at the Chipping Norton Festival on Sunday 25th June attracted a steady flow of browsers and customers.  The heatwave may have been history but it barely rained and our gazebo didn't blow away this time!  We made £140 (after costs).
The day before saw our stalwarts at salient locations in Woodstock, collecting another £113.36 for Amnesty International.  So that is more than £250 in just one weekend!
Thank you to our volunteers who worked so hard to stage these events, to everyone who gave generously and to all who signed our petition.  Every little helps!  And with Amnesty International you can never tell which card, letter or petition might make that significant difference and help to improve someone's prison conditions or even save a life. 
Look out for our Amnesty Secondhand Bookstall in Burford on Saturday 9th September.  And our next street collection is in Witney on the same day.  Please consider volunteering to help with either event!  To get in touch ring Val on 01608 645036, or come to our next meeting on Thursday 13th July in Chipping Norton's Lower Town Hall, strting at 7:30 pm.  You'll be most welcome!
View latest posts