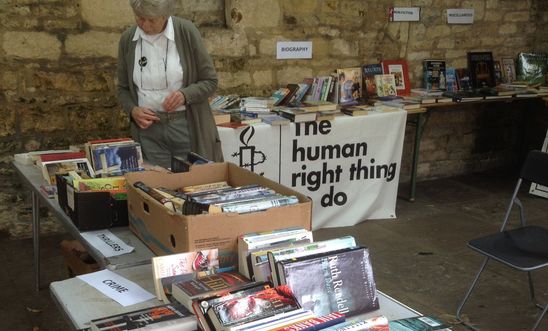 A big "thank you" to everyone who donated books and/or bric-a-brac and toys for our stalls in Burford and Chipping Norton this weekend.  Our book sale raised some £245 and we have yet to count our takings from today's Festival stall.  I can report that our money box was very heavy and our merry band of helpers were kept busy by lots of customers as well as by the elements - we were nearly blown to Salford by some of the stronger gusts!
Particular thanks go to those new group members who volunteered to help with our stalls this weekend.  There's no stopping our stalwarts but at least they were able to take breaks for refreshment and to enjoy some of the delights of Burford and the Chippy Festival.
Our presence in our local towns provided an opportunity for local members of Amnesty International to introduce themselves and for others to find out more about Amnesty International  - and to go home armed with Amnesty application forms!
We are planning to have another book sale in our area soon.  Watch this space!
View latest posts