To the Peace Community of San Jose de Apartado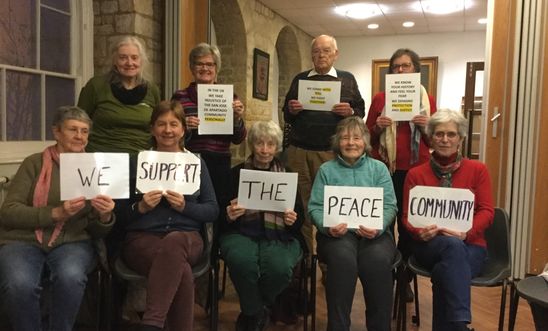 Members of Chipping Norton Amnesty, joined by our speaker from Greenpeace, express solidarity with the Peace Community
The Chipping Norton Amnesty Group continues to offer solidarity to the Peace Community of San Jose de Apartado. 
21st February marks the 15th anniversary of the 2005 massacre when 8 community members, including the community leader Luis Eduardo Guerra, were killed. Since forming in 1997 more than 200 of its members have been killed or subjected to enforced disappearance, whilst others have been threatened or sexually assaulted. This farming Community continues to live "peacefully" amidst armed conflict of paramilitaries and rebels and continually turns displacement and victimhood into innovative sustainability and peaceful resistance.
An AIUK worker is gathering all the AIUK actions together and we await the day when this photograph, with its demonstration of our support, will reach the Community in the Urabá region of North-West Colombia.
View latest posts