Out and About, promoting Amnesty causes.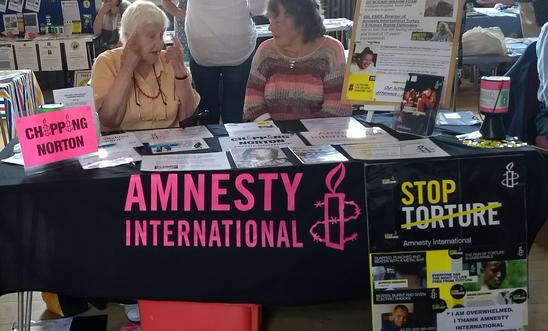 Liz & Val promoting our Group at Saturday's 'Clubs Day'
Our Press Officer reports that "the Town Hall Clubs Day yesterday (Saturday 2nd June) was worthwhile and a pleasant event".  Our eye-catching stall had pride of place immediately facing the entrance and, with the Amnesty day-glo colours nicely reflected in our stall-minders outfits, they inevitably attracted lots of interest.
This is a busy time for our Group.  At our next meeting, on Thursday 14th June, we again welcome Amnesty trainer Robert Richwood who will be leading a workshop on 'Human Rights Defenders' with particular focus on Saudi Arabia, Columbia and Chile, to link with our Case Files.
Saturday 16th June will find us back in the Town Hall (downstairs this time), hosting an Amnestea from 2 to 4 p.m.  Do pop in to enjoy a cuppa and cake whilst learning more about the work of Amnesty International and what you can do to help promote Human Rights.
Look out for us with our collection tins on the streets in Woodstock on Saturday 30th June - and perhaps empty your pockets of that heavy change!
At our monthly meeting on Thursday 12th July, Group Member Isobelle Jaques will update us on the international human rights agenda.
On Saturday, 14th July you'll find our annual Book Sale back at the Tolsey.  Perhaps you have some unwanted books you'd like to donate?
We look forward to seeing you at any or all of these events.  For more information ring Val on 01608 645036.
View latest posts