Making a stand in Woodstock & Burford!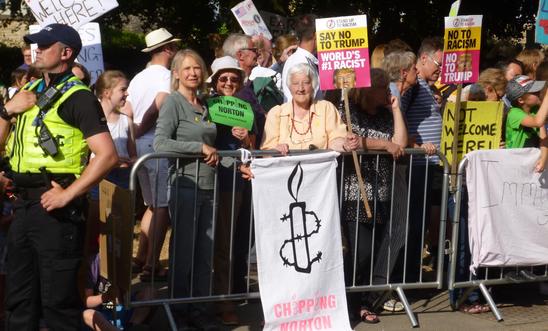 We've been busy!  Thanks to all our helpers and the generosity of our supporters we've also collected some £400.
In June we hosted an Amnestea, welcoming visitors to Chipping Norton Town Hall for a cuppa in exchange for a donation.  Then we enjoyed good weather in Woodstock for our Street Collection - a record £196.80.
In July we were back at the Tolsey in Burford with our Annual Book Sale; we were complimented on our book selection and quality and were pleased to make £157.10 profit from sales and donations.
And on 12th July....something completely different!  Four members of the Chipping Norton Group joined the thousands of protesters at the gates of Blenheim Palace on the day President Trump came to dinner.  The photograph shows our strategic position, with our banner hung over the railings attracting plenty of attention, including from members of Oxford City Amnesty Group!
In August we take a break from our business meetings and reward ourselves with a social 'bring a plate' evening.  You'd be welcome to join us on Thursday 9th August, starting at 6:30 p.m.  For further information contact Val on 01608 645036.
View latest posts