Eye-witness: life in Israel and the West Bank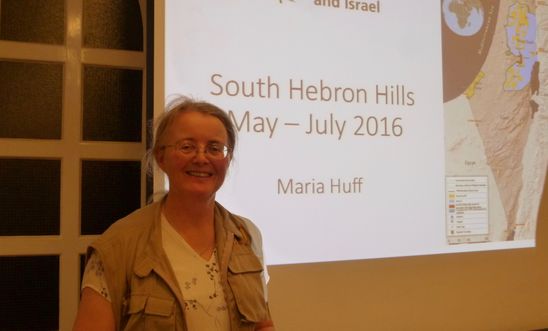 Maria Huff, reporting on her time in Israel and the West Bank
At our meeting on 13th October we heard from Maria Huff who, earlier this year, spent 3 months as an observer with the Ecumenical Accompaniment Programme in Palestine and Israel (EAPPI).  Ecumenical Accompaniers (EAs) witness and accompany vulnerable communities and individuals, monitoring and documenting any human rights abuses and protecting people at risk of violence.
Maria reported her observations about life for Palestinian pastoral farmers and their families in  villages and on land in the West Bank.  It seems that the mere presence of EAs reduces fear and enables farmers to graze their animals on their own land free of intimidation - which is otherwise a common occurrence.  She described the stark contrast between the lives of Palestinians in tented villages and those of Israeli settlers who are well provided with modern houses, utilities and general infrastructure.
Maria drew our attention to a widely held view that the current situation in the West Bank is illegal and contravenes the Geneva Convention, in particular Article 27 which proclaims "the principle of respect for the human person and the inviolable character of the basic rights of individual men and women" and Article 49 which states that "The Occupying Power shall not deport or transfer parts of its own civilian population into the territory it occupies".
We were encouraged to contact our MP, our MEP, church leaders and others to raise our concerns about the situation in the West Bank and to ask them to take action to support the development of a peaceful solution for Israel and Palestine.  And we have further information for anyone who may be interested in finding out more about becoming an EA.
View latest posts