Chippy Group marks Human Rights Day 2014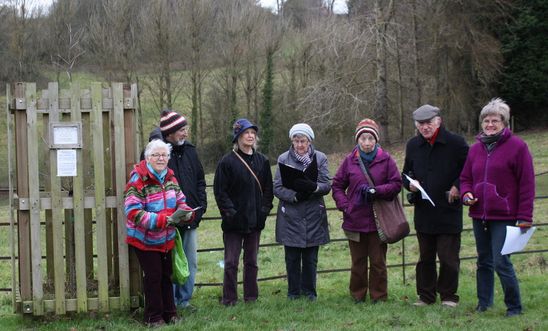 Campaigners for Human Rights meet at Chipping Norton's Amnestree
Chipping Norton Amnesty Group commemorated Human Rights Day and the 30th Anniversary of the UN Convention Against Torture (UNCAT) by gathering at our Amnestree on Chipping Norton common. 
Heather Leonard welcomed everyone and explained that we planted this oak tree two years ago to mark Human Rights Day and the adoption of the Universal Declaration of Human Rights (UDHR).  Our Amnestree is slowly gathering strength.
Peter Burns reminded us of the meaning of "Human Rights" and the UDHR's promise "to strive.... to secure their universal and effective recognition and observance".  We reflected on the seemingly countless examples of current human rights abuses and the continuing need for Amnesty's campaigns.
Focusing on the specific abuse of "Torture", Kate Ward read UNCAT's definition of torture and reminded us of the range of methods which are too often being reported as in use today - hence Amnesty UK's active Stop Torture campaign.  We are encouraged to sign Amnesty UK's website petition calling on the EU "to take all necessary steps to ensure that torture equipment cannot be bought, sold or advertised within its borders or by its citizens".
Kaye Freeman cheered us up by reminding us of some recent items of good news, including the freeing of prisoners of conscience following Amnesty letter-writing campaigns.
In closing, Heather asked us to continue to support our local Amnesty Group and to take action to stop Human Rights abuses, encouraging us with the words of Anthropologist Margaret Mead, "Never doubt that a small group of thoughtful, committed citizens can change the world. Indeed it is the only thing that ever has."
View latest posts