Chipping Norton Group celebrates 21 years of activism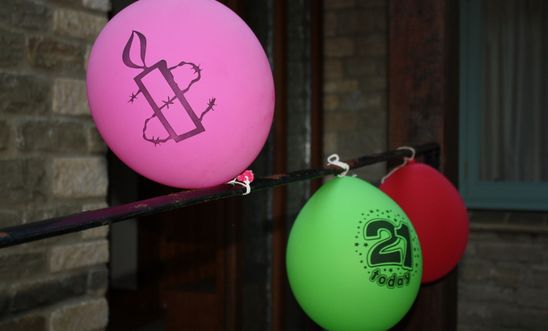 Members and guests of the Chipping Norton Group celebrated the Group's 21st birthday on a gloriously sunny evening in the delightful surroundings of Heather's house and garden. 
Surrounded by stories, photographs and memorabilia from the past 21 years, we were reminded of our core purpose and motivated to continue in our efforts to campaign in support of human rights. 
Founder member, Joan Lilly, reminded us of the importance of our work by reading from letters sent to us by 'our' Lebanese Prisoner of Conscience, Ali Hussain Ali Ammar, who we campaigned for for 4 years until he was released by Israeli authorities in April 2000.
You'd be looking at a photo of our Amnesty cake, decorated with the Amnesty candle but the file size reflects the size of the cake and so it cannot be uploaded here!
P.S.  Thank you to those who signed more cards to Stop Torture and/or purchased bric-a-brac and helped raise a further £41.29.  Every little helps!
View latest posts