Burford Bookstall Boosts Amnesty Funds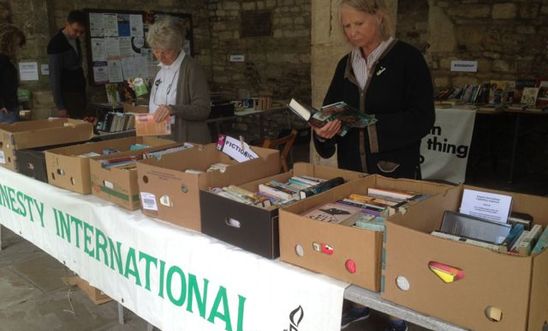 Group Members, Barbara and Felicity, study and sort the books
The rain held off and we had a successful day in Burford with our bookstall in the Tolsey.  We raised £206.68 (a profit of £191.68 after paying for the space) and raised the profile of Amnesty International and the Chipping Norton Group to locals and visitors to Burford, explaining the work of Amnesty to the browsing public, and thereby recruiting one or two new members.
Special thanks must go to Burford resident and Group Member, Felicity Ziegler, for organising everything, including a team of volunteers to both price the books and staff the stall.  And thanks to all those volunteers and customers who helped to make the day a success - and to clear up.
We had an excellent assortment of books, hard and soft bound, covering various genres, both fact and fiction, catering  for children and adults.  Due to the generosity of our supporters we have lots more books still to sell.  So please get in touch if you know of a suitable occasion when we can set up shop again.
View latest posts