Books and Things and Volunteers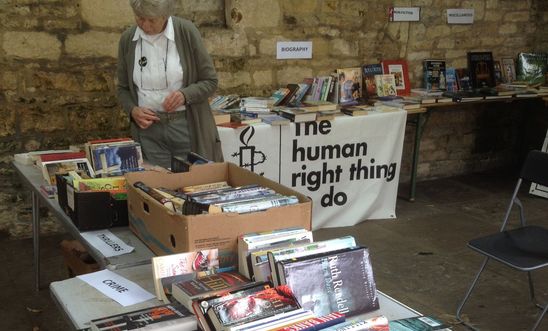 We've started to plan and to get organised for our summer events.  So here are some dates for your diary and a prompt to start collecting things for our various stalls.
Sunday 12th June:  Chipping Norton Festival
Our Group will have a stall to promote Amnesty's work.  We aim to attract visitors with a lucky dip and by sale of bric-a-brac.  As Chippy will be celebrating the Queen's birthday, we propose a red-white-blue colour scheme; so we shall be pleased to receive any suitable small items in these colours. 
Contact: Kaye Freeman on 01608 642757.
Saturday June 25th: Woodstock Street Collection
A street collection in Woodstock in aid of Amnesty International from 9:30 a.m. till 12:00 noon.  Volunteers needed to fill the 9 slots.
Contact: Liz Birchall on 01608 677271.
Saturday 2nd July: Burford Book Sale
Books and volunteers are needed for our annual sale of books in the centre of Burford under the Tolsey Museum.  Help needed between 9:00 a.m. and 3:00 p.m.
Contact: Felicity Zeigler on 01993 823350.
Please come and support us at any or all of these events.  Bring your friends - and your loose change!
View latest posts