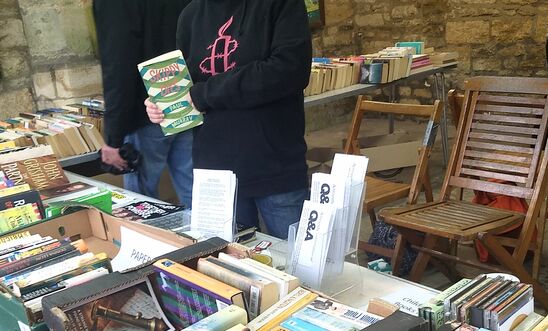 Co-chair Tricia, in her Amnesty sweatshirt, fronting our Book Sale in Burford's Tolsey.
Hello!  On 21st August we were delighted to be back in action with our Burford Book Sale, making money and advertising our presence to Burford's residents and visitors.  Thanks to everyone who helped to make the day a success, whether by helping set up or dismantle our stall, contributing books - all in good condition, by volunteering to staff the stall on the day, or by buying some books! 
We are pleased also to be supporting the Charlbury Refugee Action Group (CRAG) by sharing the remainder of our book stock, some of which found new homes at CRAG's recent Car Boot Sale.
And next Thursday, 9th September, will see our Group return to our usual meeting place, Chipping Norton's Lower Town Hall.  The meeting will receive reports of our recent activities and plan what to do next before a Letter-writing session.  This month Amnesty UK is focusing on 9 cases in 9 different countries where the Human Rights of individuals or groups are under threat and asks us to appeal to the relevant authorities to take the necessary steps to safeguard these people.  We know that this sort of letter-writing campaign can make a positive difference.  So, do come and join us.  The meeting will start at 7:30 p.m. with tea, coffee and perhaps even a biscuit!  See you there!
View latest posts