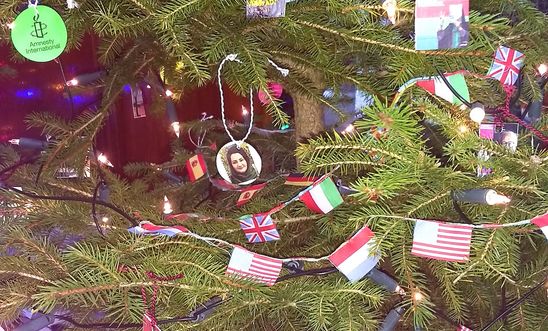 Two trees!  One decorated by the Chippy Amnesty Group and enjoyed by visitors to the Christmas Tree Festival at Chippy's Methodist Church.  Thanks especially to Kaye for the ideas and for her band of elves who helped to make the decorations and then decorate the tree.
The other is still growing nicely.  Our own Amnestree has claimed its place in the New Street recreation ground and is here to stay.  Indeed the buds are already set to burst forth in the Spring (download the photo).  In 2012 we planted this tree to commemorate the Universal Declaration of Human Rights which was proclaimed by the United Nations on 10th December 1943.  Supporters of Amnesty International continue to strive to ensure that Human Rights are respected around the world - including in the United Kingdom.  Our work is apparently endless.
Thank you for purchasing and for displaying our Amnesty Christmas cards.  Have a lovely festive season. 
Downloads
View latest posts