Write for Rights in Cambridge: 10th & 12th December or organise your own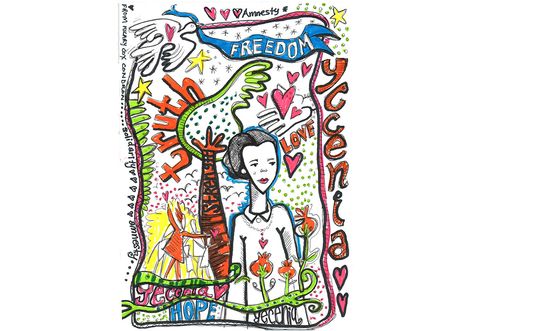 Card by local artist Hilary Cox for Yecenia Armenta
Write for rights is an annual Amnesty campaign where we send messages of solidarity to prisoners of conscience, human rights defenders and those facing other human rights violations. 
Come and join members and friends of your local Amnesty group on
- Thursday 10th December, 7.30 pm at the Jesus Lane Friend's Meeting House. Bring along something to eat and (non-alcoholic) to drink
- Saturday 10th December, at our stall in Market Square in front of the Guildhall, from 10.30am till 1pm
- Organise your own, just drop us a line (amnestycambridgecity@gmail.com) and we'll support you as best as we can with materials etc. You can also find full details about the campaign here: www.amnesty.org.uk/write
If you have any non religious seasonal cards or attractive note cards please bring them along to any of the above events as they will be very useful. 
More info about this year's write for rights cases can be found here: https://www.amnesty.org.uk/issues/Write-for-Rights-priority-cases
View latest posts