Write a letter, change a life: Letter writing drop-in Wednesday (25th February) and Monday (2nd March)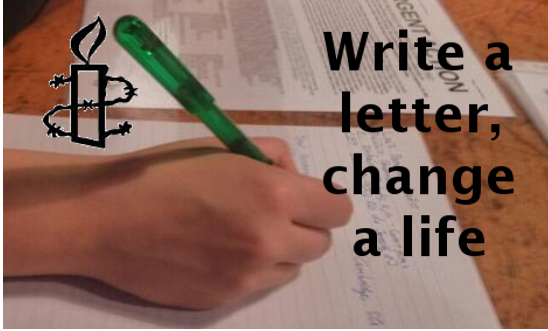 In 2012, marines broke into the home of Claudia Medina Tamariz, mother of three. They arrested her and took her to a local naval base. Over several days Claudia suffered terrible torture and "confessed" to a crime she didn't commit. When Amnesty International heard about Claudia's case, campaigners and supporters across the globe sprang into action, signing letters, petitions and holding demonstrations in front of Mexican embassies. About two weeks ago she was cleared of all charges, which means that she no longer faces prison.
Following her acquittal, Claudia send the following message: 'I want to thank members of Amnesty International all over the world…. Many thanks in particular to the more than 300,000 people that sent letters about my case that were delivered to the Attorney General in September." To read more about Claudia's story, click here. While the dropped charges are fantastic news for Claudia and all those who helped in this campaign, including members of the Cambridge City group, there is more to be done. 
As Claudia experienced personally, letters can change lives, so join us at the following two events that are focussing on taking action for victims of Human Rights abuse, in particular through letter writing. 
* Wednesday 25th February, 7:30pm-9:30pm, CB2(upstairs), we'll be writing letters for LGBTI people who are victims of Human Rights abuse. This is a drop-in, so come any time that suits you. We'll be writing on behalf of several people and organisations, in particular Ihar Tsikhanyuk, a gay man in Minsk, Belarus, who was beaten for setting up a gay organisation. We're considering if we can support Ihar on a long term basis so do come to find out what this involves and how you can contribute. There are also cards to sign. More details can be found here. If you can't make the meeting (or any meetings), but would like to be involved, please get in touch. 
* Monday 2nd March, 6:30pm-8:30pm, CB2(upstairs). The Stop Torture campaign group meets to sign letters and petitions and plan campaigning actions in Cambridge around the Stop Torture campaign. At this meeting you will hear the latest news, including a report from the Amnesty Stop Torture conference on 14th February. We will also discuss the group's upcoming lobbying meeting with MP Julian Huppert on these issues, particularly with a view to the elections. More details can be found here. 
Also check out our Evening of Action and Conversation for Women's Rights on Thursday 12th March here and letter writing on 17th March for Women's Human Rights here. 
View latest posts