Why we joined the Amnesty International Cambridge City Group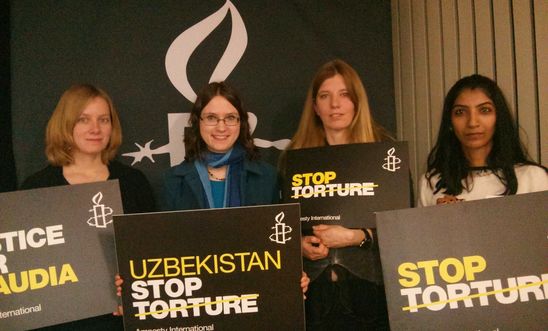 We all believe, and have witnessed, that together we can change lives by fighting injustice. The way that each of us has become an active member of the Amnesty International Cambridge City Group is slightly different and so a few of us have written below how and why we joined the group. We hope that you'd like to join us as well, so that together make an even greater difference.  
You can write letters from home, or help organise an event, it's up to you how much time you commit. Whether you're an old hand at grass roots campaigning, or you've never done anything like this at all, you'll enjoy meeting (or being in touch via e-mail with) like-minded people and really making a difference. 
"I can't remember exactly when I joined Amnesty, though it was some time in the mid-1980s, but I do know that Bruce Springsteen had a hand in it. I've always had an interest in the wider world outside Britain and a concern for people suffering from oppression, but when I saw that my hero Bruce Springsteen had played a concert in support of Amnesty, it prompted me to find out a bit more about the organisation. I was hugely impressed by Amnesty's commitment to working on behalf of people in the most desperate circumstances, whose own governments were often responsible for their suffering, and I knew straight away that Amnesty was an organisation I wanted to be involved with. And I have been ever since." 
  Sheila
"In my early twenties I was interested in human rights and aware of Amnesty's work but had never actively been involved. A few years later I read a report about a woman in Indonesia who had just been released after nine years detention for taking part in a demonstration. She was nineteen years old on her release. I couldn't accept a child of ten could be imprisoned for such a thing. That was the start of my work for Amnesty,"
  Michael
"I Joined Amnesty UK as a national member and later the Cambridge Amnesty Group because it supports prisoners of conscience across the world by the simple and often effective method of writing letters to them and also about them to those in authority," 
   Angie
"Amnesty International has always been a part of life, as my mum used to take me along to her local group meetings since the age of about 3. When I was a bit older, I officially joined the group and started to regularly take part in their market stalls, church services and other actions. One of our major 'successes' was when a Chinese trade delegation, that visited our small town, did not attend their reception in the town hall, because of our tiny demonstration of about 5 people with a banner in the market square.
So whenever I have moved to a new place, I have tried to find the local amnesty group, because it's also a great way to get to know new, like-minded people. I feel extremely passionate about defending human rights, and speaking out on behalf people whose rights have been violated and who need the support and solidarity of others around the world.
I have huge admiration for individuals who speak out against oppressive regimes and are actively defending human rights in countries where this means that they are putting their own safety and lives at risk. I don't think that, in the same situation, I would be as brave as them, so I feel the least I can do is take action on their behalf through amnesty. I also strongly believe that amnesty's approach of writing letters and putting pressure on government really works, as I have seen many very encouraging success stories during the years I have been a member,"
   Andrea 
"I joined Amnesty because, with all the injustices in the world, I wanted the opportunity to make a difference, however small. The concept of human rights is worth fighting for because every human being should be treated with dignity and respect,"
  Emma
"We moved to Cambridge 17 years ago because of my husband's work. I was pregnant at the time. This of course wasn't a great starting point for finding a job. Having been a member of Amnesty International in The Netherlands, I decided to join the local group in order to meet some people and do something useful.
Apparently Anita Roddick used to tell her daughters that as a citizen it was their duty to keep their mouth open. I couldn't agree more. As a citizen we should believe in a better world and not accept the injustices that we see. Having been involved in many campaigns, some of which were successful, with prisoners released and laws changed, I have become only more motivated and resolved to use my spare time to try to make a difference.
Sometimes  - well, often – when I feel low about the state of the world, going to an Amnesty meeting is the best medicine. Not only will it allow me to focus on doing something positive, I also know that I do so together with some wonderful people, not just in Cambridge, but all over the world! And most importantly, we do something out of solidarity with another human!"
   Liesbeth
Read Liesbeth's December 2013 blog here about why she is an Amnesty activist. 
View latest posts