Truth for Giulio Regeni campaign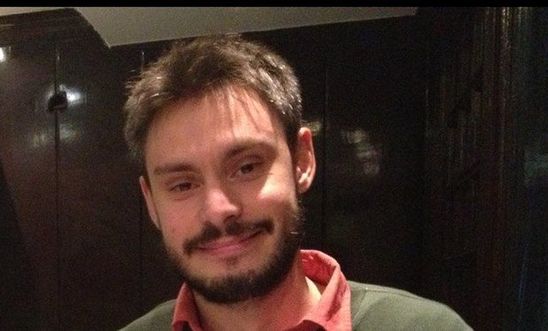 To mark the anniversary of Giulio Regeni's murder and disappearance, to express solidarity with his family and friends and to continue to call for Truth for Giulio Regeni, please join the vigil on Friday 3rd February, 6 - 6:30pm in front of Great St Mary's. Please bring tealights and candles and any signs saying "Truth for Giulio Regeni".
On the following day, Saturday morning 4th February from 10:30am till 1pm, we will be at Market Square with a stall where we will have several letters calling on the Egyptian authorities for Truth for Giulio Regeni, as well as for Azza Soliman, our keynote speaker at the women's rights conference last February, and other NGOs in Egypt who are currently unable to do their human rights work due to asset freezes and travel bans.  On 13 February Amnesty will launch a national campaign with lecturers' union UCU to call for justice for Giulio and Egypt's Disappeared. Look out for details of the London launch, a lecture in Cambridge on 14 Feb and events around the country.
Giulio Regeni disappeared on 25 January in Cairo, where he was researching independent trade unions for his PhD in Development Studies at the University of Cambridge. On 3 February his body was found, bearing signs of severe torture which human rights groups say are the hallmarks of the Egyptian security forces.
The Egyptian government denies it had anything to do with his disappearance and murder. Yet what happened to Giulio was not an isolated incident. Amnesty International has exposed how Egypt's security services have "disappeared" hundreds of people during the last year. For more information and a link to the full report, click here. 
Amnesty International in Italy established the Truth for Giulio campaign with the support of his parents. In Cambridge, hundreds have also taken part in protests or signed petitions in support of the campaign. Cambridge City and Cambridge University branches of Amnesty International are working with local trade unions including the University and College Union (UCU), the National Union of Journalists, and with Cambridge University Student Union and Egypt Solidarity Initiative, to continue the campaign for truth for Giulio and justice for Egypt's disappeared. 
If you would like to get involved in the Truth for Giulio Regeni campaign, please sign up on the mailing list here. You will receive up to date information about events, meetings, letter writing and other actions.  
View latest posts