Talk by Adala UK on human rights situation in Western Sahara on Thursday, March 14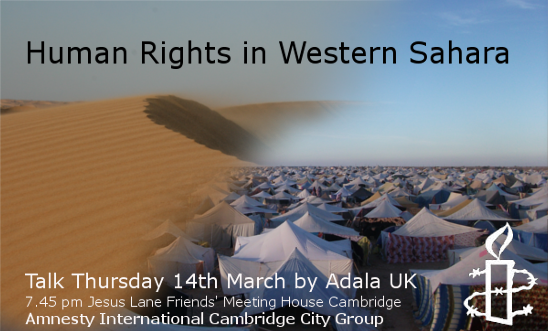 7.45pm Jesus Lane Friends' Meeting House, Jesus Lane, Cambridge
On Thursday, 14th March there will be a talk by Adala UK, a Cambridge based campaigning organisation focusing on the human rights situation in Western Sahara. The Western Sahara is the subject of a territorial dispute between Morocco, which annexed the former Spanish colony in 1975 and claims sovereignty there, and the Polisario Front, which calls for an independent state in the territory and has set up a self-proclaimed government-in-exile in refugee camps in south-western Algeria. A referendum on independence or integration into Morocco was originally set for 1992, but has been repeatedly postponed and has yet to be held. The stalemate over the final status of the territory continues. 
The Moroccan authorities target Saharawi human rights activists who publicly express views in favour of the self-determination of Western Sahara or who monitor and report on violations of 
human rights in the region. Human rights defenders face restrictions on their work including harassment, surveillance, limitations to their freedom of movement, and politically-motivated prosecutions. In recent years, Sahrawi human rights and pro-independence activists have been imprisoned following demonstrations calling for the right to self-determination for the people of Western Sahara and many have reportedly been tortured or otherwise ill-treated during questioning by Moroccan law enforcement officials.
 
Adala UK will be showing the short documentary 'La Badil', followed by a discussion about the human rights situation in Western Sahara with a UK representative of the Polisario Front. An emphasis will be placed on recent prison sentences against 24 Saharawi political prisoners who participated in the Gdeim Izik protest camp in 2010."
 
View latest posts