Reclaim the cupcake for women's rights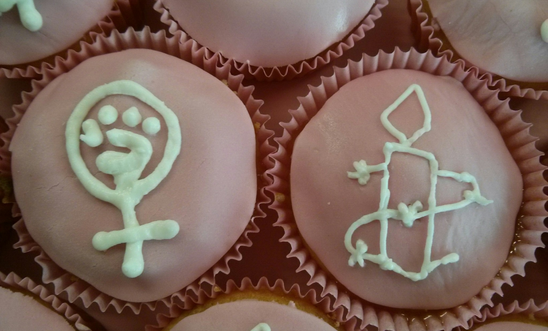 Take part in the competition on Saturday 6th February and help us raise money for Amnesty International
It's time to bring the cupcake back from it's ever-narrowing sexist niche and make it a power tool for women's rights! Join us in turning humble ingredients like butter and sugar into campaigning tools, inspirational icons and representations of women's rights and feminism.
This competition runs alongside the women's rights conference on Saturday 6th February. Both take place in the Jesus Lane Friends' Meeting House, 12 Jesus Lane, Cambridge, CB5 8BA. Details of the conference can be found here.
Conference participants will vote for their favourite cupcake and a panel of judges from the Blue Belles WI will choose three winners:  "Best Campaigning Message", "Most Creative" and "Best Free from/Vegan". Judgement will be on appearance only and not on taste. 
What is a women's rights cupcake?
Answer: Anything you want it to be so long as it is something to with women's rights. It could have a campaigning message on it like "My body, my rights" or "Only Yes means Yes". It could tackle or subvert gender stereotypes such as pink shoes for girls, blue cars for boys. It could be a feminist symbol, or it could be about an issue such as suffrage or equal pay. It doesn't really matter, so long as it's a decorated cupcake (or small cake). 
Who can take part?
Anyone. We are asking people to consider their cupcakes a donation. There is no limit to the number of entries you can make but we do ask that you enter a minimum of six cupcakes for each entry. These don't have to be identical, the six can have a theme. The more entries you make, the more chances you have to win – and the more money we raise for Amnesty!
If you are planning to take part, please register here, which allows us to plan for the day.  
To enter:
All entries must be checked in by noon and bakers can begin bringing in cakes from 9:30am. If however you are bringing in cupcakes early in the morning, we suggest that you bring them in an appropriate box to keep closed. You can collect this box between 4pm and 5pm. Winners will be announced at the afternoon session during the "Call to Action" between 3 and 4pm and we will ensure that all winners will receive their awards in case they cannot be present (see conference attendance below).
Bakers are very welcome to join conference participants for free from 11.45-2pm and visit the campaigning stalls as well as admire all cupcake entries. They are also welcome again from 4pm, to visit the campaigning stalls, which is also when the cupcakes will be sold.  At both times there will be free coffee and tea. 
Bakers are very welcome to join the speaker and workshop sessions, but they will need to buy a ticket. Tickets for the afternoon or morning are £3 and £7 for the whole day. More information about the conference as well as a link to booking for the conference, can be found here.  
For each entry please bring along a cupcake competition entry form (below) with your name, contact details, the name of your cupcake and a short explanation of your interpretation of the theme as well as the ingredients. We will have some plates to display your cupcakes, but it would also be helpful if you bring something along. Entries need to be checked in by 12pm. If you need boxes or display stands returned to you please mark them with your name and collect them at the end of the afternoon. (4pm  -5pm).
Notes:
Cupcakes will be sold for £1 each at the end of the conference. Winner's cupcakes will be sold for £1.50. Bakers can also donate plain cupcakes. All monies raised will go to Amnesty International UK and after costs and expenses of the conference have been paid.
All winners will receive a certificate
Winners will be announced at the conference during the "Call to Action".
Photographs of your cupcake may be used for press and campaigning purposes.
For any questions, please e-mail amnestycambridgecity@gmail.com
View latest posts