Join the vigil on 3rd February marking a year since Giulio Regeni's disappearance and murder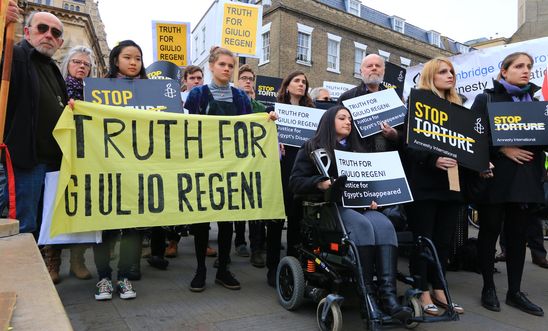 A year ago, on 25th January 2016, Giulio Regeni, an Italian citizen and a doctoral student at Cambridge University, disappeared in Cairo. He was in Egypt to conduct research on independent trade unions. Nine days later, on 3rd February, his body was found at the side of the Cairo-Alexandria highway. The autopsy indicated that he was tortured repeatedly for several days before he died. His injuries resembled those resulting from the torture methods used by the Egyptian security forces. Amnesty has exposed how hundreds of political activists, protesters, students and even children have been arbitrarily arrested, detained and subjected to enforced disappearance by stage agents in Egypt. Many were tortured in detention. 
To mark the anniversary of his murder, to express solidarity with his family and friends and to continue to call for Truth for Giulio Regeni, please join the vigil on Friday 3rd February, 6 - 6:30pm in front of Great St Mary's. Please bring tealights and candles and any signs saying "Truth for Giulio Regeni".
On the following day, Saturday morning 4th February from 10:30am till 1pm, we will be at Market Square with a stall where we will have several letters calling on the Egyptian authorities for Truth for Giulio Regeni, as well as for Azza Soliman, our keynote speaker at the women's rights conference last February, and other NGOs in Egypt who are currently unable to do their human rights work due to asset freezes and travel bans.  On 13 February Amnesty will launch a national campaign with lecturers' union UCU to call for justice for Giulio and Egypt's Disappeared. Look out for details of the London launch, a lecture in Cambridge on 14 Feb and events around the country.
 
February also is LGBT history month and we are delighted that we have two events. On Thurday 2nd February there will be a talk by Egyptian LGBT+ Rights Activist Shrouk El-Attar, who has been living in Wales since 2007 after being forced to claim asylum in the UK.  Further details can be found here.
On Thursday 9th February there will be a talk by writer Saleem Haddad who will explore the complex issue of identity by reflecting on his own life and considers the factors that shape identity and the revolutionary principle of deviating from rigid labels. More information about the talk can be found here. The bookclub will discuss Saleem's book Guapa at their next meeting on Tuesday 21st February (Details here).
Following the well attended talk by Ecumenical Accompanier Paul Clark on the 12th January, there will be a meeting of the Israel and Occupied Palestinian Territories Subgroup on Tuesday 7th February 7:30pm at the Burleigh Arms. All are welcome to write letters and to discuss and help shape the group's campaign for human rights in Israel and Occupied Palestinian Territories. More details can be found here. 
View latest posts