Join a subgroup: campaign together for humanity and human rights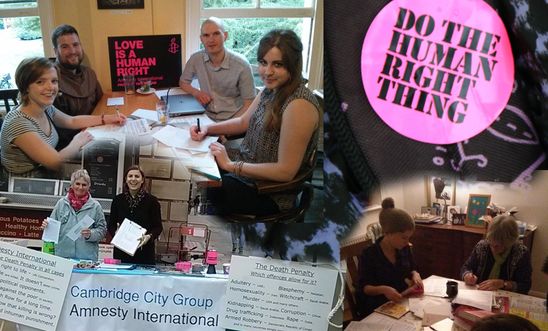 Many of the Cambridge CIty Groups campaigning, events and actions are organised by the group's subgroups, a list of which can be found below. 
Please consider joining one of them. You can write letters from home, or help organise an event, it's up to you how much time you commit. Whether you're an old hand at grass roots campaigning, or you've never done anything like this at all, you'll enjoy meeting (or being in touch via e-mail with) like-minded people and really making a difference. 
Women's Rights
This is a new group that we are setting up. Our first meeting is on the 4th April (details here). If you'd like to be involved, please e-mail amnestycambridgecity@gmail.com
LGBTI - Love is a Human Right
From the UK to Uganda, we're taking action to challenge discrimination targeted at people for their sexual orientation or gender identity. If you want to step up and speak out against the hate, then join our letter writing and other events. For more information, please e-mail Liesbeth ten Ham, liesbet7200@gmail.com.
Stop Torture Campaign
The Cambridge City Group runs an active sub-group who campaigns to Stop Torture. If you'd like to get involved, either with letter writing at home or help organise events in Cambridge, please contact Sue Woodsford, sue.woodsford@ntlworld.com
Human Rights in Israel and the Occupied Palestinian Territories
The Israel and Occupied Palestinian Territories subgroup works on human rights abuses suffered by people who live in this problematic area of the world. We sometimes write letters on behalf of individuals, for example, human rights defenders who are punished for their activities, and sometimes we address problems experienced by whole communities, like those whose land and homes are threatened by illegal settlements. If you would like to join, please contact Sheila Hakin, smh1003@hermes.cam.ac.uk
Campaign against the Death Penalty
Over the past two decades there has been good progress regarding abolition of the death penalty with a significant number of countries abolishing it or no longer carrying out death sentences. However, Amnesty International recorded executions in 22 different countries in 2014 so there is still some way to go and some of the news is depressing. Join this subgroup if you are interested in writing letters, raising awareness and taking action in other ways. For more information or to join, e-mail Mike Tidball, m.tidball@btinternet.com
Asylum Justice Project Subgroup
The Asylum Justice Project is organised and run by Amnesty volunteer activists across the UK and supported by Amnesty Staff. Founded in January 2015, the Project is campaigning for better treatment of asylum-seekers in Britain; for it to be fairer and more just, and to improve the public perception and awareness nof asylum seekers and the asylum process. Members are currently focused on ending indefinite detention of asylum-seekers and ending the Fast Track Detention system. For more information or to join the group of Cambridge volunteers, e-mail Andrea Brandt von Lidau, andrea_bvl@yahoo.de
Bookclub
Love reading? Enjoy books that tell stories from around the globe about injustice and courage, love and survival? Then come along to our bookclub for a great time discussing books with a human-rights focus. We meet about five times a year. At every meeting we decide when we'll meet next and what book we're going to read. For more information, please e-mail Liesbeth ten Ham, liesbet7200@gmail.com.
View latest posts