Join a subgroup and campaign together for humanity and human rights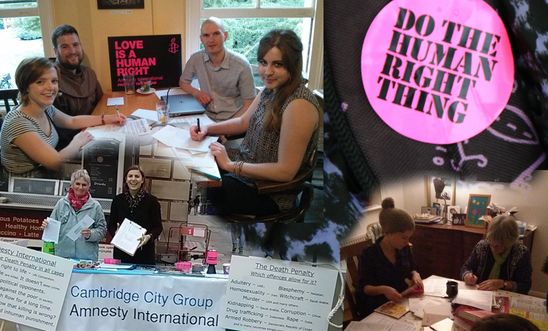 Are you passionate about a particular issue, or would like to learn more about an area of our work? Come along to one of our subgroup meetings which focus on key Amnesty International campaigns.
Many of the Cambridge CIty Groups campaigning, events and actions are organised by the group's subgroups, a list of which can be found below. Through joining a subgroup, you can write letters from home, or help organise an event, it's up to you how much time you commit. Whether you're an old hand at grass roots campaigning, or you've never done anything like this at all, you'll enjoy meeting (or being in touch via e-mail with) like-minded people and really making a difference. 
LGBTI - Love is a Human Right
From the UK to Uganda, we're taking action to challenge discrimination targeted at people for their sexual orientation or gender identity. If you want to step up and speak out against the hate, then join our letter writing and other events. If you would like to join the group and receive email updates, please email amnesty-cambridge-city-lgbti-subgroup+subscribe@googlegroups.com . For any questions or further information, please email amnestycambridgelgbti@gmail.com
Women's Rights Subgroup
There are many human rights that are routinely denied to women and girls because of their gender. Following the women's rights conference early February 2016, we started a women's rights subgroup, taking action through writing letters and campaigning in many other ways. One of our focus was the Campaign for Equality in Iran and in particular one of its members, prisoner of conscience, Bahareh Hedayat, who was released September 2016. We are now campaigning for Teodora del Carmen Vásquez, a Salvadoran woman convicted in 2008 under charge of "aggravated homicide" and sentenced to thirty years in prison after suffering a still-birth while at work. She has spent more than eight years in jail. If you would like to get involved, please e-mail Camilla Penney on cep451@gmail.com.
Stop Torture Campaign / Truth for Giulio Regeni
The Cambridge City Group runs an active sub-group which campaigns to Stop Torture and for Truth for Giulio Regeni, the Cambridge PhD student whose tortured body was found on 3rd February 2016 near Cairo. If you'd like to get involved, either with letter writing at home or help organise events in Cambridge, please contact Sue Woodsford, sue.woodsford@ntlworld.com
Human Rights in Israel and the Occupied Palestinian Territories
The Israel and Occupied Palestinian Territories subgroup works on human rights abuses suffered by people who live in this problematic area of the world. We sometimes write letters on behalf of individuals, for example, human rights defenders who are punished for their activities, and sometimes we address problems experienced by whole communities, like those whose land and homes are threatened by illegal settlements. If you would like to join, please contact Pamela Manning, pamjomanning@gmail.com 
Downloads
View latest posts