Inspiring September events: Concert, talk, letter writing and campaigning stall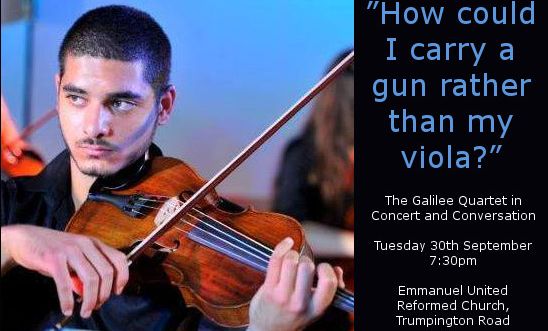 On Saturday 13th September we'll have our monthly fundraising and campaigning stall in Market Square (details here).
On Thursday 18th September we're very pleased to welcome Lesley Burgess who is AIUK's volunteer country co-ordinator for the Philippines. The Philippines is featured prominently in the Stop Torture campaign due to the fact that torture is rife, but despite the legal framework there is a culture of impunity.  
On Saturday 20th September the Ely Amnesty group are showing the film The Railway Man which is followed by a Q&A with 95-year-old John Lowe, a survivor of the Japanese Labour Camps. More information here. 
On Monday 22nd September we will host our monthly letterwriting and drop-in with a focus on Human Rights violations in Israel and Occupied Palestinian Territories.  It'll be at CB2 as usual,for full event details, click here.
At the end of the month, on Tuesday 30th September, we're honoured to present the Galilee Quartet in concert and conversation. This is their first appearance since viola player Omar Saad was released from prison for the seventh and final draft for refusing to serve in the Israeli Defence Force. The performance will be followed by a Q&A with Omar which will be chaired by Julian Huppert MP. Full details of the event can be found on our new Eventbrite diary pages here.
As you can imagine, this is a large event and we are looking for volunteers to help with various tasks. If you are in any way able to help, please contact Sheila Hakin on smh1003@cam.ac.uk . 
A full listing of the Cambridge City group's events can be found on our Eventbrite's pages here. 
View latest posts