Human Rights Film Festival Saturday 22 & Sunday 23rd June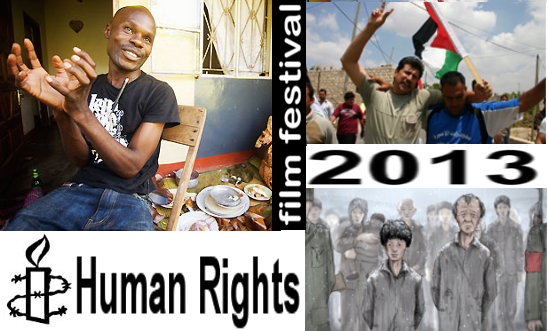 This year's Amnesty International Human Rights Film Festival at the Cambridge Arts Picture House focuses on three campaigns in which the Cambridge City Group has been actively involved during the last year: human rights violations in Israel and the occupied Palestinian Territories and in North Korea, and LGBT rights worldwide.
There will be three screenings, each followed by a discussion with an expert. More information about the screenings can be found below and on the Arts Picture House Website where you can also purchase tickets.
CALL ME KUCHU - homophobia in Uganda Saturday 22 June. 3.30pm
5 BROKEN CAMERA's and short GROWING - human rights violations in Israel and Occupied Palestinian Territories Saturday 22nd June, 6pm
CAMP 14: TOTAL CONTROL ZONE - human rights violations in North Korea Sunday 23rd June, 3pm
 
Saturday 22nd June, 3.30pm
CALL ME KUCHU
Directors: Malika Zouhali-Worrall, Katherine Fairfax Wright. USA/Uganda 2012. 87 mins.
Like all the best documentaries, CALL ME KUCHU introduces us to a little-known yet disturbing phenomenon, draws us into the complexities that have created it, and raises our concerns for the future. In this case it's the shocking homophobia that Uganda's church, its media and ultimately its government channelled into legislation that threatened the country's gay citizens with imprisonment or even death.
Better known as a writer and producer of shorts, Katherine Fairfax Wright teamed up with journalist Malika Zouhali-Worrall to investigate this injustice as seen through the life of the late David Kato, the first publicly gay Ugandan. His struggle to end a smear campaign – which was backed by American evangelists, among others – is moving, harrowing and beautifully realised, and it also inspires us to believe that right will inevitably triumph over might, no matter how powerful the prejudice.
We are delighted to welcome Paul Dillane (Refugee Researcher, Amnesty International UK) for a discussion after this screening. A former immigration, refugee and human rights lawyer, for the past nine years Paul has been engaged in representing foreign nationals seeking international protection in the UK, including persons who have been forced to flee their home country on account of their sexual orientation.
For tickets, please visit the Cambridge Arts Picturehouse website
Saturday 22 June, 6.00
5 BROKEN CAMERAS + Short Film GROWING
Directors: Guy David, Emad Burnat. Palestine/Israel/France/Netherlands 2011. 94 mins. Hebrew and Arabic with English subtitles.
At the birth of his son Gibreel, Palestinian farmer Emad Burnat is given his first movie camera and begins recording both Gibreel's childhood and the conflict growing around them.
As Israel's controversial 'security barrier' is built through their village, olive groves and buildings are destroyed by Israeli troops; violent protests are even more violently suppressed, and in the process the five cameras of the title are smashed. But with the help of Jewish filmmaker Guy Davidi, the narrative also reflects moments of hope and minor triumph that underpin the determined spirit of Burnat, his family and their fellow residents.
Whatever one may think about this complex and divisive issue, Burnat and Davidi's documentary is an affecting, sometimes almost poetic study that reminds us that despite the political intransigence, the situation must be one day be resolved.
5 BROKEN CAMERAS was awarded the IFDA prize at Amsterdam Film Festival and the Audience Award at Sheffield Doc/Fest, as well as further prizes at Sundance, London Open City, and the Stranger Than Fiction Film Festival in Dublin.
5 BROKEN CAMERAS will be preceded by the short film GROWING by Tariq Rimawi. Unfortunately, Tariq will not be able to attend the screening.
We are delighted to welcome Averil Parkinson for a discussion after this screening. Averil is Chair of the Cambridge Palestine Solidarity Campaign. 
For tickets, please visit the Cambridge Arts Picturehouse website
Sunday 23 June, 3.00 
CAMP 14: TOTAL CONTROL ZONE
Director: Marc Wiese. Germany/South Korea 2012. 104 mins. Korean with English subtitles.
CAMP 14: TOTAL CONTROL ZONE is a fascinating portrait of a young man who grew up imprisoned by dehumanising violence yet still found the will to escape.
Born inside a North Korean prison camp as the child of political prisoners, Shin Dong-Huyk was raised in a world where all he knew was punishment, torture and abuse. Filmmaker Marc Wiese crafts his documentary by quietly drawing details from Shin in a series of interviews in which Shin's silence says as much as his words.
Weaving anecdotes from a former camp guard and a member of the secret police with powerful animated scenes capturing key moments in Shin's life, Wiese pulls audiences into Shin's world. Shin escapes and becomes a human rights 'celebrity', but as we see, his life outside the camp is often just as challenging as it was inside it.
This film was an Official Selection at the Amsterdam International Documentary Film Festival 2012 and Toronto International Film Festival 2012. 
Presented in association with the Bar Human Rights Committee and Anti-Slavery International.
We are delighted to welcome Kenny Latunde-Dada for a discussion after this screening. Kenny is the Country Coordinator for North Korea at Amnesty International UK.
For tickets, please visit the Cambridge Arts Picturehouse website
View latest posts