Get your tickets for the screening of Kashmir's Torture Trail followed by Q&A with director Jezza Neumann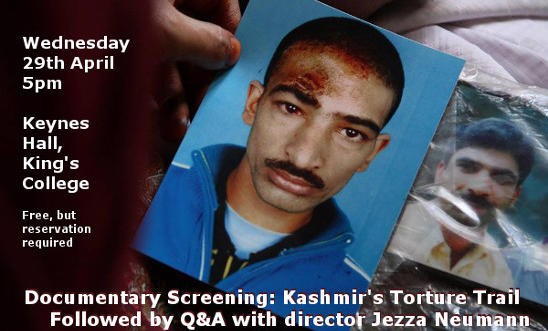 This Wednesday 29th April at 5pm, the Cambridge City group hosts a screening of 'Kashmir's Torture Trail' together with the University of Cambridge's Centre for Governance and Human Rights, as part of the Centre's current human rights film series. The film's director Jezza Neumann will be there for a Q&A session following the screening. The screening will be in Keynes Hall at King's College. The screening is free, but reservation is required here. 
In the most militarised place on earth, one man is standing up to the armed might of the world's largest democracy. This documentary by True Vision follows a Kashmiri lawyer as he uncovers India's best kept secret.
Kashmiri lawyer Parvez Imroz has never filed a divorce or defended a thief. Instead, this veteran Supreme Court advocate has spent his entire legal career dressed in a grey morning suite and working pro-bono. Broke but determined, with two young children and a wife who complain he has yet to take them on a picnic, Imroz has always risked his life to keep the Indian authorities accountable in this disputed mountain state where, unseen by most of the world, an insurgency has rumbled on since 1989, claiming an estimated 70,000 lives.
BAFTA-winning film-maker Jezza Neumann followed Imroz as he turned his attention to an even more incendiary project, probing how the Indian security forces drove the rioters off the streets and imposed peace, in one of the most heavily militarised places on earth.
Sending out survey teams across the valley, at great risk, he asked ordinary Kashmiris to describe their lives and how India suppressed the riots. Their answers helped him expose and map a network of government-run torture centres, through which as many as one in three Kashmiris have been hauled.
For more information and to book tickets for this free screening (reservation is required) please click here. 
View latest posts