Fundraising dinner 24th March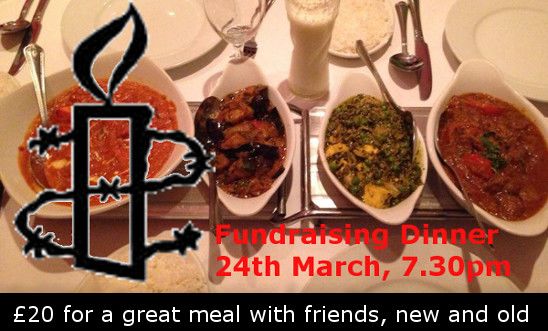 There's another fundraising social to celebrate the start of Spring. Meet Amnesty members and friends, old and new, and enjoy some tasty food at Raja Indian restaurant. It comes recommended by one of our regulars and www.localsecrets.com, the brilliant local listings site, also gives it a thumbs up. It's a great way to support Amnesty in a friendly informal way, and to meet some nice folks to boot.
I've negotiated a meal which, with tip for the restaurant and donation to Amnesty (but not drinks) included comes to £20 per head. We'll get a selection of dishes, vegetarian included, with curries of different strengths to choose from. Also included is poppadums and dips plus a starter each. Drinks are extra but we'll get jugs of water for the table.
7.30pm Tuesday 24 March
Raja Cuisine, King Street, Cambridge CB1 1LN
Please let me know by Friday 20 March, 5pm if you can make it - hope you can! Let me know through registering here for a vegetarian or non-vegetarian meal. 
Best wishes
Lissy
View latest posts