Events in July: Asylum Project Talk, Stall, LGBTI & Stop Torture letter writing and campaign meetings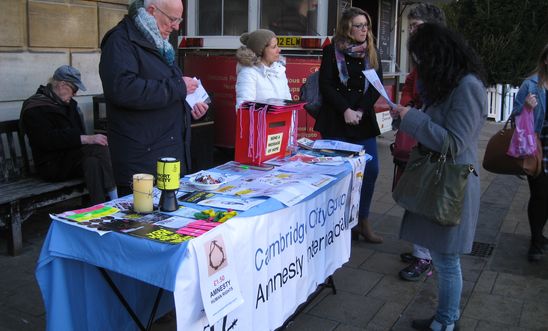 Join us this month! 
Thursday 9th July: Asylum Project talk
Jesus Lane Friends' Meeting House, 7:30pm
Georgia Rajamanoharan from Amnesty's Asylum Justice Project will talk about the project's campaign and current plans. Karol Florek from 'Australians and Allies Overseas Against Mandatory Detention' will talk about their campaign against the indefinite incarceration of all asylum seekers who arrive by boat, including many children. After both talks we will also discuss what we can do from Cambridge and a subgroup working on these issues may be set up. If you would like to be involved, but cannot make the meeting, please get in touch.
More information: https://www.eventbrite.co.uk/e/asylum-project-talk-tickets-17387628866
Saturday 11th July: Campaigning and fundraising stall
Market Square (in front of the Guildhall), 10:30am - 1pm
Meet the Cambridge City Group, buy second hand books and sign letters and petitions on behalf of human rights defenders and individuals at risk.   
Wednesday 15th July: LGBTI group meeting and letter writing
CB2, Norfolk Street (upstairs if there is space), 7.30pm
Join us to find out and take action with regards to our long term campaign for Belarus LGBTI rights activist Ihar Tsikhanyuk. We will also take other actions and write letters on behalf of those who are a victim of Human Rights abuse as a result of being LGBTI. 
More information: https://www.eventbrite.co.uk/e/amnesty-cambridge-lgbti-group-meeting-supporting-lgbti-activists-in-belarus-and-and-elsewhere-tickets-17690483713
Monday 20th July: Stop Torture campaign group & letter writing meeting
CB2, Norfolk Street (upstairs if there is space), 7.30pm
Join the Stop Torture campaign group which meets to sign letters and petitions and plan campaigning actions in Cambridge around the Stop Torture campaign.
More information: https://www.eventbrite.co.uk/e/stop-torture-campaign-group-and-letter-writing-tickets-17386343020
View latest posts