Enjoy a lovely summer evening's walk or run and raise funds to stop torture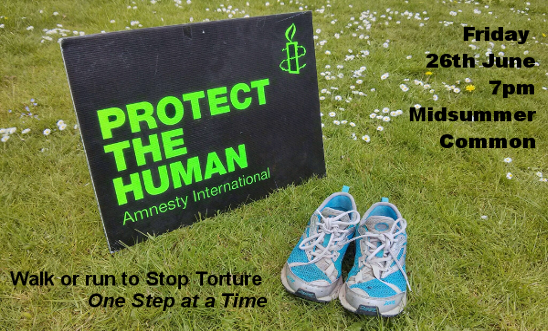 Friday 26th June, 7pm
It promises to be a wonderful summer evening this Friday 26th June. Normally the weather forecast wouldn't be subject of an Amnesty e-mail, but with our 10K and 5K run and 5K leisurely walk at 7pm along the river Cam, it's actually quite relevant! 
I hope you will all join us for this event which is on the International Day in Support of Victims of Torture and aims to raise vital funds for Amnesty's work to stop torture. Each participant can either give a donation for participating or raise sponsorship. After all runners and walkers have finished, all are welcome to join for a picnic. Families -especially the cheering ones- are very welcome!
Please register here for one of the runs or the walk: https://www.eventbrite.co.uk/e/walk-or-run-to-stop-torture-one-step-at-a-time-tickets-16776328450, or let us know in another way that you are coming. 
You can give a cash or cheque donation on the day at the start of the race, or make one electronically directly to Amnesty International UK (details here) before or afterwards. If you are raising sponsorship for Amnesty, tips on how to do so online can be found here. If you do so, please share your fundraising page with us too (amnestycambridgecity@gmail.com)! You can also download a sponsorship form here.
Please note that this is not a chip-timed race.
******* DETAILS FOR ON THE DAY *******************
START/FINISH: Midsummer Common, past Midsummer House, down the river, opposite Clare boat house, a 60 or so yards before Cutter Ferry Bridge (Also known as Emma or Pye's bridge).
REGISTRATION: Registration is open from 6:30. The 10K race starts just after 7pm. Next the walkers leave and then the 5K race starts.   
PARKING Grafton West car park (https://www.cambridge.gov.uk/grafton-west-car-park £1.60 for two hours), then walk down Auckland Road to Midsummer Common or see if there is a free space in the car park at the end of Abbey Road or streets nearby.
ROUTES: 
5K: http://www.mapmyrun.com/routes/view/751026283
10K:  http://www.mapmyrun.com/routes/view/751044713/
Through the above links you can zoom in and view a 3D map of the route. 
HEALTH & SAFETY:
Be careful of traffic when joining roads and stay on the footpath where there is one

Please mind other walkers and runners

Please bring your own water.  There will be no water points along the route. 

For the 10K runners, please be careful of nettles along the narrow path past Baits Bite Lock Weir

Please familiarise yourself with the route. We will hand out paper copies of the routes at registration. There will also be a few stewards directing you along the way.
For a full listing of all the Cambridge City group's events, please visit http://amnestycambridgecity.eventbrite.co.uk/
View latest posts