Celebrating Human Rights Day: 10th December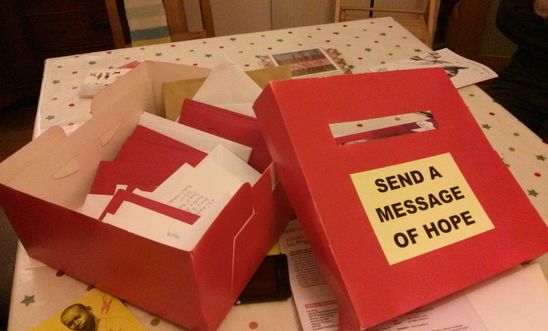 A birthday party for the Universal Declaration of Human Rights from 3-5pm at Market Square in front of the Guildhall and writing messages of solidary in the evening, from 7.30pm at the Jesus Lane Friend's Meeting House, this is how the Amnesty Cambridge City Group is celebrating Human Rights Day. You're warmly invited!
At the beginning of the Birthday Party, in daylight, we will give away small cup (birthday) cakes and ask people to pick out a birthday wish on behalf of the UDHR from folded pieces of paper in a basket. The birthday wishes will be the articles of the Declaration.
Once it is dark we continue giving out small cakes, if we have any left, and light candles on a big birthday cake for the UDHR as well as holding a candlelit vigil. We will also have leaflets and information to give out on the Human Rights Act and other Amnesty concerns. All are welcom to drop by, say hello and eat cake at any time between 3 and 5pm and join us from 4:30pm for the candle lit vigil. It will be great fun and an opportunity to remind ourselves and others of the importance of the Declaration on its 67th Birthday.
Later in the evening from 7.30pm, we will be at the Jesus Lane Friends' Meeting House with our annual Write for Rights evening. Come and join members and friends for drinks, biscuits and card writing as part of this year's campaign. 
Write for Rights is our annual campaign to achieve justice through writing a message. Whether it's by email, by post or on social media, we know that our messages have results - pressuring authorities to undo injustice, and supporting individuals in their search for justice, through writing a simple message of hope.
There will be materials about the individuals and groups we are writing to and advice on how to approach writing (as well as experienced Amnesty members to give suggestions if you get stuck) as well as plenty of time to relax and chat. 
If you have any non religious seasonal cards or attractive note cards please bring them along as they will be very useful, and if you'd like to, also bring something (non-alcoholic) to drink and something to eat. 
More info about this year's write for rights cases can be found here.
Please note that full listings of our events can be found here. 
View latest posts