Campaigning for LGBTI Rights - 12 Feb talk by Martin Lunnon from the Amnesty LGBTI Network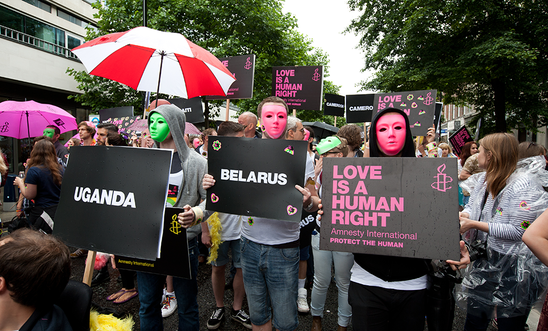 Lesbian women, gay men, bisexual, transgender and intersex people do not have any special rights, but their human rights – the same rights as all people enjoy – are often infringed in particular ways.  Hence Amnesty has special campaigns about these infringements.
Amnesty activist Martin Lunnon will talk about the work of Amnesty's LGBTI network, and why both campaigning and supporting local groups in their campaigning is so important. Martin's talk will also include a campaigning action.
At around 9pm, after a small break, the group's campaigning meeting will start. Actions for the several campaigns that the Cambridge City group is involved in will be discussed and there will be letters for signing. All are welcome to this meeting and to listen and/or contribute. 
Click here for further information about the talk
Click here for information about Amnesty's LGBTI network, including how to join. 
Click here for a blog by Martin Lunnon about Human Rights in Uganda
Click here to read about Amnesty's work for LGBTI rights.  
At the end of the month we will also organise a letter writing specifically focussed on LGBTI victims of human rights abuse. Writing a letter, sending an e-mail or signing a petition can make a huge difference. The work of Amnesty activists has changed thousands of lives around the world, helping to save people from torture, detention, harassment and other abuses. If you are interested in letter writing and campaigning on these specific issues, this February or on a regular basis in Cambridge, please get in touch with amnestycambridgecity@gmail.com .
View latest posts