Cambridge launch of Stop Torture campaign on this Thursday 26th June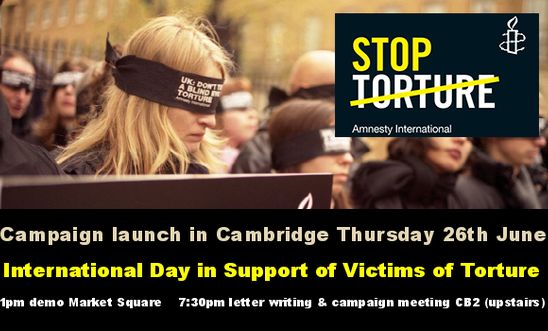 Take a stand against torture on the International Day in Support of Victims of Torture this Thursday 26th June and support the launch of the Stop Torture campaign in Cambridge. The Amnesty International Cambridge City Group will be joined by other organisations such as Freedom from Torture and the World Development Movement at two events: 
1-1:30pm   Action, Market Square, in front of the Guildhall
7.30pm   Letter writing and campaign meeting, CB2, Norfolk Street (upstairs)
Amnesty International has been fighting torture for over 50 years and its activists campaigned hard for the creation of the UN Convention against Torture 30 years ago. Torturers are now international outlaws and 155 countries have signed up to the UN Convention. But many governments are neglecting their responsibilities.
Torture is not a thing of the past. It is not even just alive and well. It is flourishing. Download the briefing (PDF) to find out more about the use of torture around the world. 
Torture happens behind closed doors. It happens when there are no lawyers or doctors present, when police and others with power to wield do not fear the consequences of their actions. But by ensuring such safeguards are in place, you can stop torture.
Internationally Amnesty launched its third torture campaign in May. In Cambridge we're launching our participation in this global campaign on Thursday. Please come to the action at 1pm. Julian Huppert MP will also join us. 
The purpose of the 7:30pm meeting at CB2 is twofold: first of all to take action on behalf of victims of torture, but also to discuss how we're going to take this campaign forward in Cambridge. Please come along if you have ideas and/or are interested to take part. If you can't make the meeting, but would like to be involved, even only for a little bit, please e-mail Sue Woodsford (sue.woodsford@ntlworld.com) or Liesbeth ten Ham (liesbet7200@gmail.com). 
We need you to support our Stop Torture campaign to ensure that no one has to suffer at the hands of a torturer. Please join us at the action and/or the letter writing and campaign meeting on Thursday 26th June. 
All event dates for June and July can be found here.
View latest posts