August & September events: get involved locally to campaign for Human Rights around the world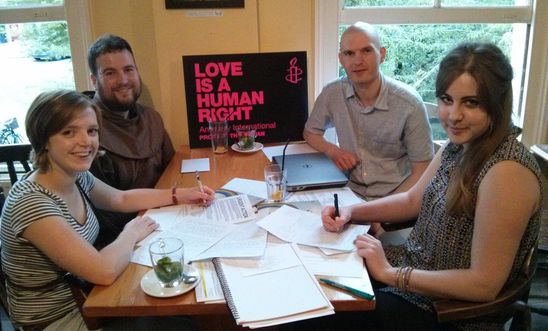 We've got a range of interesting events lined up for you this August and September. It would be great if you can join us! However, if you cannot make a meetings mentioned below but would like to be involved in a particular campaign, please get in touch.
On Saturday 15th August there will be a campaigning and fundraising stall in Market Square from 10:30am to 1pm.
Following the thought provoking talks on the 9th July on the rights of asylum seekers and refugees and the current refugee crisis, the new Asylum Project subgroup will meet for the first time onThursday 20th August at 7pm at CB2 Cafe on Norfolk Street. More details here.  
On Tuesday 1st September the anti-death penalty subgroup will have a first meeting at 6.30pm at CB2 (Norfolk Street). There will be actions with regards to anti-death penalty cases and the group will discuss local awareness raising and make plans for the International Day of Action against the Death Penalty on Saturday 10th October. More details here. 
On Thursday 10th September, at the Jesus Lane Friends Meeting House at 7.30pm, there will be a workshop on Amnesty's campaign to keep the Human Rights Act. All are welcome to join for this workshop and for the campaigns meeting which will follow on from the workshop. Actions for the several campaigns that the Cambridge City Group is involved in will be discussed at the campaigns meeting and there will be letters for signing. More information can be found here. 
On Saturday 12th September there will be another campaigning and fundraising stall in Market Square from 10:30am to 1pm.
If you're looking for a good book to read in the coming weeks, we have a great suggestion. On Tuesday 15th September the bookclub will meet up to discuss "The Blue between Sky and Water" by Susan Abulhawa.  More details here. 
On Wednesday 23rd September the LGBTI subgroup meets to write letters in support of Belarus gay activst Ihar Tsikhanyuk and take other actions for LGBTI rights around the world, starting at 7.30pm atCB2 (Upstairs if there is space). In addition to our campaign, we will also discuss our plans for Gay History Month 2016, which will see some national events in Cambridge. We have been invited to join the festivities, including a parade. More information about our meeting can be found here. 
View latest posts