Amnesty International East Anglia Regional Conference: Refugees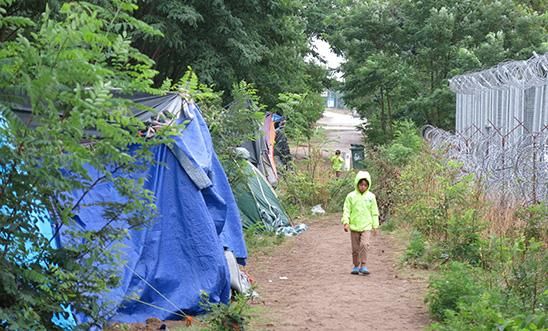 This conference took place on the 8th October 2016 in Cambridge and was attended by around 200 people
Watch the video of the day here:  https://youtu.be/cHJOZapoSPE 
For pictures of the day, please visit our Flickr account here: https://flic.kr/ps/34wRRX 
A massive thank you to the speakers, volunteers, workshop leaders, performers, cooks, and everybody else for making the conference such a success, and for discussing the various ways of making a difference and saying #RefugeesWelcome. Thank you also to Anna Sellen for the brilliant photgraphs and Luke Pierce and Spencer Herron for the filming and editing of the excellent video. 
-----------------
Around the globe, 60 million people have been displaced – 19.5 million of them outside their own countries – because of war, conflict and persecution. This is the highest level of displacement in history, according to the United Nations High Commission for Refugees.
In September Amnesty International will launch a new global campaign, focussing on the protection of refugees during their journey and on their rights to claim asylum.  While the response of world leaders, particularly from the world's richest countries, to this unprecedented multiple refugee crises is a catastrophic failure, there are many things that local people and activists can do.
Join the East Anglia regional Amnesty International conference on Saturday 8th October in Cambridge to find out what you can do, and how you can make a difference.
The day will start with a global overview of the issues facing refugees and internally displaced people, from detention in the UK to the war in Syria. Steve Symonds, Amnesty UK programme director for Refugees, will share his knowledge and experience and also talk about the new Amnesty campaign.
Next keynote speaker Fathieh Yazdi will address the conference about her experience as a refugee and helping refugees. She was born in Mashad, Iran. She lived in Britain from 1970-1979 as foreign student and then in 1982 arrived as a refugee. She is a feminist and a Human Rights activist and worked for charitable organisations such as Ipswich Women's Aid and the Refugee Council, advising on women and refugee rights. She was a member of the editorial board of an Iranian feminist journal and organized many training courses and events as part of her jobs but also as volunteer. Since her retirement she also volunteered in Greece last March. She will talk about the refugee journey, the needs of refugees, culture and integration and about the ways that people can help refugees.
A vegetarian and vegan lunch buffet (Click here for menu) will be provided by Foodcycle and during lunch people will have the time to exchange experiences and discuss at various themed tables the issues that they are interested in such as "Supporting people in Calais", "Refugee Resettlement", "Unaccompanied Minors", refugees from various countries etc. At each table will be an expert such as an Amnesty country co-ordinator. 
Alongside the tables there will be some information stalls run by organisations such as Amnesty's Asylum Justice Project, Cambridge Refugee Resettlment Campaign, Cambridge Calais Refugee Action Group and others. There will also be virtual reality viewers, showing a 360 degrees body of evidence of the devastation caused by barrel bombs in Syria and the human lives that remain. More detail can be found here: http://360syria.com/
Singer, percussionist and poet Somaye will give a lunch time concert at 12.45pm, accompanied by Vicki Kenny on the piano. To listen to Somaye's tunes please visit www.somaye.info. Her "I am an Immigrant" poem can be found here: https://soundcloud.com/somaye/i-am-an-immigrant
A photo exhibition about the refugee camp on Moira, Lesbos documents the living conditions of the many hundreds of thousands of refugees forced to endure squalid and inadequate conditions in the EU funded "hotspot" detention camp at Moria on the Aegean island of Lesvos off the coast of Turkey. These photos were taken clandestinely (as photography is forbidden) by human rights lawyer and afternoon panel speaker Syd Bolton revealing the reality of EU policy and its impact on the lives of refugees, many, many of whom are children, alone or with their families, not knowing what will happen next. You can download the exhibition leaflet here. You may have heard that a fire broke out on 20th September which destroyed about 60% of the camp. At the panel Syd Bolton will give an update as to what is happening now with the refugees in Moira after the fire. 
After lunch there will be several workshops:
Schools: supporting refugee children in Calais and teaching UK children about refugees led by Gill Ragsdale and Sue Woodsford
Singing for our Lives - Songs of Protest led by Rowena Whitehead
Unaccompanied Minors and child refugees led by Adrian Matthews
Community Sponsorship scheme: Enabling charities, faith groups, churches and businesses to take on the role of supporting resettled refugees in the UK led by Rosy Moore and Leonie Anna Mueck
Campaign to End Detention led by Right to Remain
The power of personal stories and storytelling and how we can use that in lobbying and campaigning by Glenys Newton
Full details of the workshops can be found here. 
The workshops will be followed by a panel discussion focussing on the global perspective with the following (international) speakers: 
Nancy Herz is a Norwegian activist with a Lebanese background and board member of Amnesty Norway. She has experienced fleeing from war twice, although she has been a Norwegian citizen her entire life.
Syd Bolton is a lawyer who has a long record working on refugee protection for many organisations and who has recently come back from volunteering in Lesbos
Saskia Mahal is a member of the coordination committee of save me Mainz, a local initiative which champions the resettlement and admission of refugees as well as their rights and participation in society. Save me Mainz has been overseeing the programme "Welcome Mainz", which supports living a "Willkommenskultur" (welcome culture) in the city.
Alison Criado-Perez  is a senior MSF nurse with years of field experience. Last year she was Medical Team Leader on a search-and-rescue mission for refugees crossing the central Mediterranean between Libya and Italy.  She has recently returned from a three-month mission providing health care to Syrian refugees in a camp on the Turkish/Syrian border.
Steve Symonds is AIUK's programme director for refugees and he will chair the panel. 
The day will be interspersed with testimonies, good news stories and music and will conclude with a joint (musical) action, very much within the theme of the protest song.
Conference programme:
9.45       Registration opens, coffee & tea.
10:30     Welcome & Overview of refugees globally by Steve Symonds
11am     Keynote speech by Fathieh Yazdi followed by questions
12.00     Network lunch
13:45     Workshops
14.45     Panel discussion: The Global Perspective
15.45     Joint Action
4.00       Finish
Registration
Please register here through PayPal (debit/credit cards accepted). Costs are £9 for the whole day including lunch and refreshments.
If you would like to come, but do not have PayPal and thus cannot pay the registration fees, please e-mail us on amnestycambridgecity@gmail.com. 
The registration fees are meant to cover cost and to ensure that we do not over- or undercater. If the fees however prove problematic for you, please do not hesitate to contact us on amnestycambridgecity@gmail.com 
Please note that conference tickets are non-refundable due to administrative restrictions. If for one reason you are not able to join the conference after you have bought a ticket, we would be grateful if you could let us know.
Attendance by 14-17 year olds
The conference is open to anybody over the age of 14. However, those aged 14-17 can only attend with parental consent. A form will be e-mailed once registration is completed. Parents and guardians should be aware that this conference will discuss war, torture and other human right violations such as sexual violence which may be upsetting to your son or daughter. We therefore ask parents/guardians to carefully consider if this conference is suitable for their child. In case your child attends without a parent or another adult, they will be introduced to one of the conference organisers with whom they can speak if they so wish.
Venue & getting there
Emmanuel United Reformed Church
Trumpington Street
(opp. Pembroke College)
Cambridge CB2 1RR
Car: Grand Arcade car park is five minutes' walk. Charges for Saturday for over 5 hours are however £26. More details here: https://www.cambridge.gov.uk/grand-arcade-car-park . Details about other car parks can be found here, including parking for Blue Badge holders: https://www.cambridge.gov.uk/parking
Park & Ride bus service: There are several locations just outside of Cambridge City Centre. Trumpington Park and Ride, just off Junction 11 of the M11, stops immediately outside the doors of Emmanuel so is very much the quickest and easiest way to get to Emmanuel on a Saturday, especially for people who aren't familiar with Cambridge. The bus journey is £3 pp or £8.50 for a group of up to 5 people. Further details here: https://www.cambridgeshire.gov.uk/info/20149/park_and_ride
Train: The train station is about 20-25 min. walk. The Citi 1 bus goes from the station to St Andrew's Street from which it is a 10 min. walk.  
Bus: Many city and country routes pass near the Emmanuel United Reformed Church. Drummer Street bus station is about ten minutes' walk.
Downloads
View latest posts