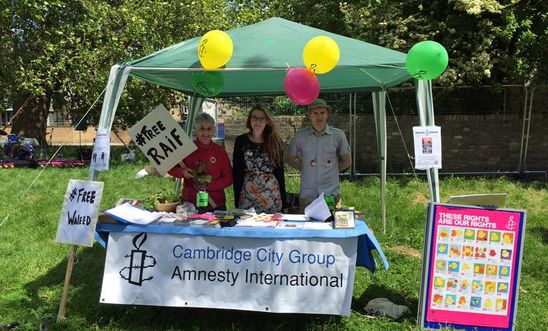 Welcome to the Cambridge City group of Amnesty International, doing our bit to stand up for human rights. 
Everybody is welcome to join or come to our events, no matter if you have only an evening a year to spend, if you want to help organise events on a monthly basis or if you'd prefer to take most of your action at home. What matters is that you want to stand up for for humanity and human rights and take action and campaign to protect individuals wherever justice, fairness, freedom and truth are denied. 
We are an active group and have monthly speaker events , letter writing evenings and market stalls, as well as holding events throughout the year for the campaigns we're involved in. 
Upcoming events are announced on the main site and through our newsletters. You can also keep up to date with our group's activities by joining our mailing list or finding us on facebook or twitter.
We usually meet every second Thursday of the month at the Jesus Lane Friends' Meeting House at 7:30pm. However, do check the main website for both venue and time as this sometimes changes. We do not meet in August.
This monthly meeting usually consists of a talk on a specific Human Rights issue, followed by a campaigns meeting where we discuss future events and actions, including those organised by the subgroups. All are welcome to attend one or both parts. We are always very happy to welcome new members even if you just want to listen to what we do. Find out here, why some of us joined.
In addition to the main meeting we have active subgroups working on the following campaigns, who each co-ordinate their own events and meetings:
Find out more about our subgroups here.
One of the ways to support the Cambridge City Group is by becoming a member. Membership fees pay for costs such as meeting room hire and our affiliation fee to Amnesty International UK. Membership also enables you, if you wish, to take part in any AIUK consultations, voting for the groups vote at AIUK's AGMs or EGMs or stand for the group's committee or become an officer. Click here for details of how to become a member.
You can download our constitution here. 
If you have any question about joining or any other queries, please contact us on amnestycambridgecity@gmail.com .