Bath Amnesty rocks Widcombe!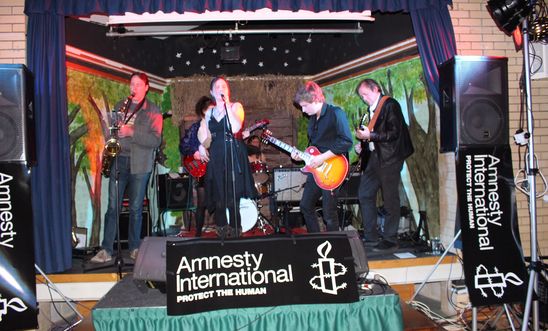 On the night of Saturday 21st March, Bath Amnesty held a fundraising gig at Widcombe School that went down an absolute storm with our local community.
We had an extraordinary number of keen attendees (so much so that we were at risk of running out of seating!) and raised a phenomenal £588.36 to continue our fight for Human Rights.
The night saw performances from the Widcome Choir, Walcot State Choir (both led by the wonderful Su Hart), comedy from Fitz, Joey Cannon and Philip Cooper and a dancefloor-filling set from local rhythm & blues band Big Ten Inch.
There was a fantastic atmosphere and spirit of generosity throughout the night, with hundreds of raffle tickets and refreshments being sold, plenty of social media engagement on our Facebook, Twitter and Instagram pages, and a whole lot of dancing and fun!
We were excited to be able to show off all this local talent to several of Bath's prospective parliamentary candidates as well, so thanks go to Steve Bradley, Dominic Tristram, Loraine Morgan-Brinkhurst and Ben Howlett for their support too.
Similarly, thanks must go to the generous local donors who provided our brilliant raffle prizes, which proved incredibly popular on the night! The Theatre Royal Bath, Mr B's Emporium of Reading Delights, Prior Park Garden Centre, Duchess Beauty, The White Company, Komedia Bath, Topping & Company Booksellers, The Little Theatre Cinema, the Fudge Kitchen, Colonna & Hunter, Nando's Bath and the lovely Bath Short Story Award Team.
The gig was a roaring success and we look forward to putting on our next one, but in the meantime thank you Bath for coming together to stand for human rights and to support the work of Amnesty International!
(Photos kindly taken and provided by Kerrianne Gauld)
View latest posts