Second Annual Concert at St Peter's Church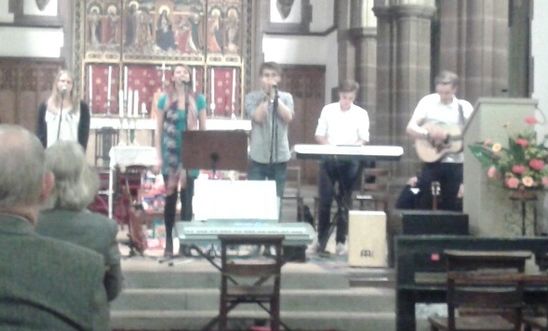 Our second Annual Concert went of well and gave us a total of over £350, which was split between our Amnesty Group and St. Peter's Church. The combination of the sacred music of the St. John's Singers, and the lively and spirited presentation from the 5 young musicians from Pads, was brilliant. It was the last time the PADS group will perform together before they go their separate ways to University. In the interval, there were refreshments, Amnesty Christmas Cards on sale, a raffle and general socialising. If you weren't able to get there, you missed a feast of an evening. We were able to send a cheque for £100 to Amnesty International (UK).
Extracts from the Chairman's speech of welcome
Welcome to our second Annual Concert in partnership with St. Peter's Church...  On the windowsill to my left, you will see the Amnesty candle which burns there each day at every service in memory of Hakan Yaman. Many of you, I am sure, will already be aware of his situation. Together with other Amnesty groups, we are working to ensure that those Turkish policemen who beat him, threw him on a fire, left him for dead and nearly blinded him, are brought to justice. He is now unable to work. We are hopeful that eventually there will be a good outcome, as there was in our previous 4-year struggle to get some justice for a 17-year old Turkish boy, whom the Turkish police cause to be paralysed, when one of their bullets richoted off a wall and lodged in his spine, all because he was handing out leftwing leaflets, quite legally....
I recently took a holiday in Turkey and I have to say I was quietly worried. Because I had written so many letters of protest to all the relevant Turkish authorities, I was convinced I would be stopped at passport control and arrested myself! Luckily it didn't happen, but I did receive three phone calls from the Home Office in the UK while I was sunning myself on the beach, which was quite disconcerting...
Ladies and gentlemen, this evening from Syria to Iran, from Japan to America. from Indonesia to Egypt, men, women and children are suffering horrendous abuse because they have made a stand for freedom and justice in their communities. So, please, support our small group and join us in making some small contribution to someone else's life, however small. Thank you.
View latest posts