October Meeting and .... Things are happening!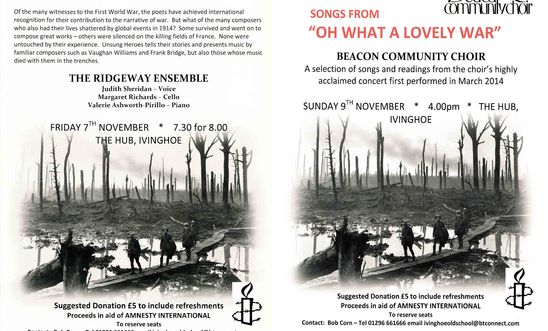 Two Concerts for Remembrance Weekend
Our October Monthly Meeting takes place on 29th October 2014 at 7.30pm at the Friends Meeting House, 9 Rickfords Hill, Aylesbury HP20 2RT - all welcome! Also - we are hosting two events over the forthcoming Remembrance Weekend at Ivinghoe Old School Community Hub, 2 High Street, Ivinghoe, Leighton Buzzard, LU7 9EX - monies raised to go towards Amnesty International's work. The first event is an evening's entertainment on 7th November 2014 given by The Ridgeway Ensemble - featuring some famous work, some not so famous by composers and poets who fell in World War 1 - 7.30pm for 8.00pm. Our second event will be on 9th November 2014 at 4.00pm - the Beacon Choir giving a presentation of extracts from their very successfully presented 'Oh What a Lovely War', given earlier in the year at St.Mary's Church, Ivinghoe; on this occasion it will be at 4.00pm in the Ivinghoe Old School Community Hub! We hope to see you at either - or both - of these events.
View latest posts