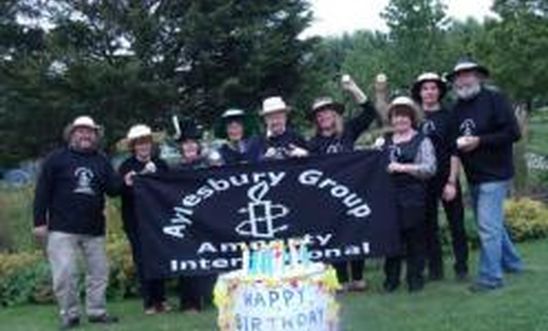 Aylesbury Group Celebrate Amnesty's 50th Birthday!
WELCOME!
Please feel a warm welcome to the Aylesbury Group of Amnesty International. We are one of almost 300 local groups that operate in the UK and contribute to Amnesty International's work to defend human rights around the world. We are a friendly and enthusiastic group of local folk, who:
*   Raise local awareness concerning human rights
*   Hold regular local meetings and informative discussions on these issues
*   Meet socially for summer gatherings, autumn walks - occasional biscuits!
*   Campaign with Urgent Actions, Letter Writing and Lobbying
*   Provide information through the website on the Group and our activities
EXCITING NEWS! Political Prisoner Filep Karma of West Papua (the Indonesian occupied territory known by the Indonesians as 'Papua Province) was released from prison after serving 11 years of a 15 year sentence. Filep had been imprisoned in May 2004 after being arrested for waving the Morning Star Flag as part of a peaceful demonstration in support of West Papuan independence, and our Group has been lobbying for his release since he was imprisoned - we now hope that our adopted Political Prisoner Johan Teterissa will also be freed soon, since his 'guilt' was the same as Filep!
We meet on the last Wednesday of every month - except August and December - in the Friends Meeting House, 9 Rickfords Hill, Aylesbury, HP20 2RT at 7.30pm, often inviting knowledgeable folk who inform and advise as to current Governmental and other thinking in the Human Rights field.
Also, we link frequently with The Human Rights Action Centre at 17-25 New Inn Yard, London EC2A 3EA, and currently host a Regional Conference annually in January, in Aylesbury.
Please do send an email to chair@aylesburyamnesty.com for further information.