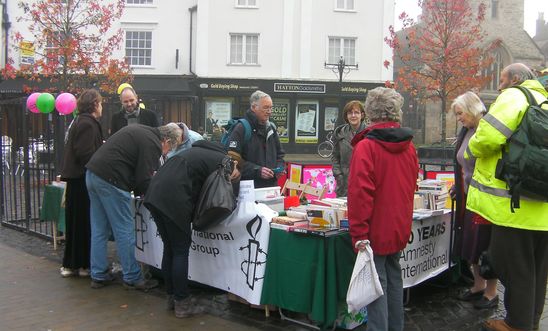 Greetings Card Campaign Stall Abingdon © Nicky Warden
Welcome to Abingdon Amnesty
The Abingdon Amnesty Group
will now meet quarterly
at the King's Head and Bell,
10 East St Helen's, Abingdon OX14 5EA.
Our next meeting will be on Tuesday 10 March 2015.
Most of our campaigning is done online and you are welcome to join our Google Group to receive regular updates on human rights information.
If you answer yes to the following questions,
we would love to meet you.
Just drop in and join us!
Do you care about human rights?
Do you want to find like-minded people ready to do something positive to help people who are being tortured, threatened or imprisoned for the peaceful expression of their beliefs? 
Can you write letters or emails and generally be a pain in the neck to the world's tyrants, traffickers, torturers and arms dealers? 
Contact: Andreas Schneider - Secretary
Email: andreas@ashrp.eclipse.co.uk
Twitter: @abingdonamnesty
Facebook: search for 'Amnesty International Abingdon' and click 'like' to receive our updates