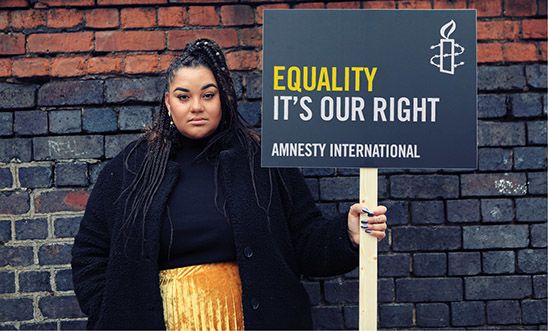 Grace Victory is one of the UK's forerunning and most successful internet sensations and over the last 4 years has built a global audience with her unique flare and girl power attitude.
Her blog is an extension of everything she is passionate about; personal style, empowerment, self love etc. Grace shares her story via her official Youtube Channel, covering issues that all young people face, as well as, taboo subjects speaking openly about social issues, mental health, depression and body image so forth.  She is extremely popular among teenage girls who see her channel as a destination to look for advice and inspiration - hence why Grace has become known as the 'Internet's big sister''.
About the Amnesty Collective
The Amnesty Collective are a group of acclaimed artists, influencers and activists. They are using their platforms to speak out about issues which are important to them and engage their community in Amnesty's work and campaigns.