How would you feel if a toxic waste spill covered the UK coastline, killing tonnes of fish and costing thousands of jobs – and the government tried to cover it up?
When it happened in Vietnam, Tran Thi Nga was angry and joined a movement to expose the truth.
For this, Tran Thi Nga has been sentenced to nine years in prison – torn apart from her two young sons. She's suffered beatings and death threats, and her health is in sharp decline.
Tran Thi Nga is not a criminal. She just wants justice. Will you help set her free by setting up a monthly gift to Amnesty International UK today?
Help us call for her release and reunite her with her family.
OTHER WAYS TO DONATE
To donate by phone, call our Supporter Care Team on 020 7033 1777
Send a cheque payable to 'Amnesty International UK' to:
Amnesty International UK
17-25 New Inn Yard
London EC2A 3EA
Please donate today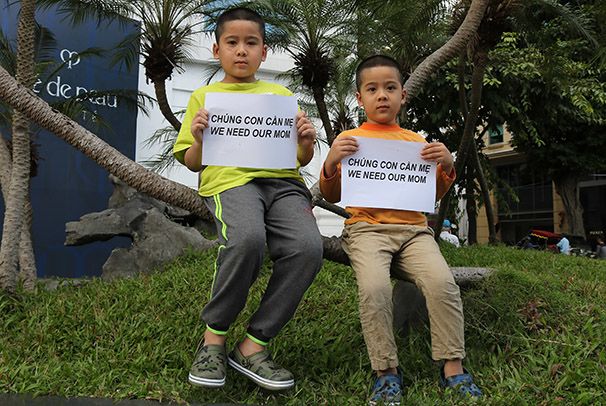 OTHER WAYS TO DONATE
To donate by phone, call our Supporter Care Team on 020 7033 1777
Send a cheque payable to 'Amnesty International UK' to:
Amnesty International UK
17-25 New Inn Yard
London EC2A 3EA
To donate by phone, call our Supporter Care Team on 020 7033 1777
Send a cheque payable to 'Amnesty International UK' to:
Amnesty International UK
17-25 New Inn Yard
London EC2A 3EA