How would you feel if a toxic waste spill covered the UK coastline, affecting the lives of thousands of families, and the government tried to cover it up?
 
When it happened in Viet Nam, Tran Thi Nga was outraged that the company responsible was not brought to justice. So she joined a movement to expose the truth, peacefully protesting and publicly calling out the government.
 
For this Tran Thi Nga was thrown in jail for nine years – torn apart from her two young sons. She's suffered beatings and death threats, and her health is in sharp decline.
Tran Thi Nga simply demanded the truth. Could you donate to Amnesty International UK today, to support our campaigning work, including justice for Tran Thi Nga?
Let's get her back to her family. She shouldn't suffer a moment longer.
Other ways to donate
To donate by phone, call our Supporter Care Team on 020 7033 1777
Send a cheque payable to 'Amnesty International UK' to:
Amnesty International UK
17-25 New Inn Yard
London EC2A 3EA

Please donate today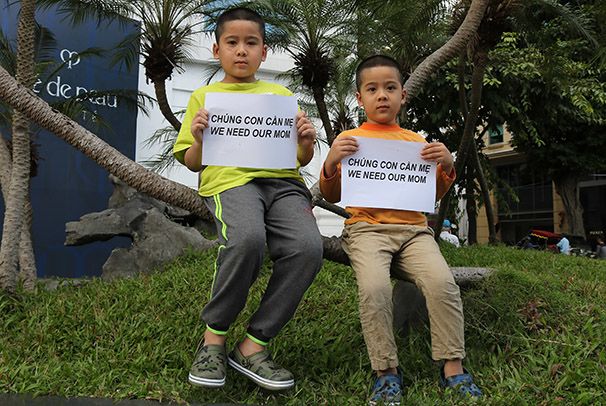 Other ways to donate
To donate by phone, call our Supporter Care Team on 020 7033 1777
Send a cheque payable to 'Amnesty International UK' to:
Amnesty International UK
17-25 New Inn Yard
London EC2A 3EA
To donate by phone, call our Supporter Care Team on 020 7033 1777
Send a cheque payable to 'Amnesty International UK' to:
Amnesty International UK
17-25 New Inn Yard
London EC2A 3EA