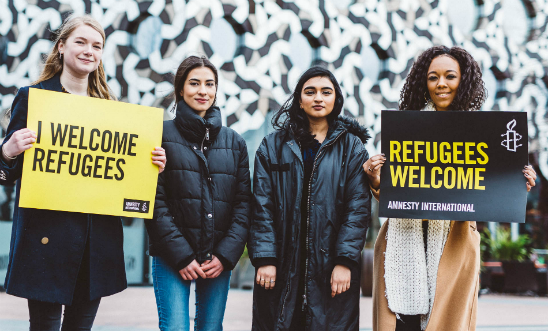 What we're doing
Student groups up and down the country have been raising money to support our I Welcome campaign – thank you so much. 
Like you, when we see people suffering, we don't back away – we act.
We're partnering with City of Sanctuary to create communities of welcome across the country. 
We're lobbying the UK government to change the cruel family reunion law which prevents child refugees from bringing their relatives to the country.  
We're conducting research to help end the abuses we see committed against refugees and migrants right here in the UK.
And we've got over 7 million people like you that we know are right alongside us. 
How your money will help
We couldn't do any of this without the help of generous Amnesty supporters like you. The money you have raised could help support our work:
Collecting evidence of the human rights abuses refugees face at every stage of their journey
Advocating decision makers to fix the systemic problems creating this crisis
Stopping the fear mongering in the media and maintain public support for a compassionate response 
Pressuring our government to create more safe and legal routes for people fleeing persecution, so families don't need to turn to smugglers and attempt such dangerous journeys.
Students Welcome - Fundraising Ideas: 
-    Welcome Party: Throw a party to welcome new students in the first few weeks of the year and raise money that could help Amnesty International UK welcome refugees. It could be a picnic, a club night, a film night or whatever else you want to organise.
-    Rowing Machine Marathon: Choose a distance and recruit a team of rowers to try and cover it in one go. You can make it a team effort or have rowers compete. Ask people to sponsor you with proceeds going to Amnesty International UK. You can use this to raise awareness of the dangerous journeys many refugees have to make by sea to get to safety. This idea could also work with cycling or running machines.
-    Sponsored shaves/haircuts: Shave your hair off, or go for an eye-catching haircut like a mohawk, and ask people to sponsor you. Do the cut somewhere public to attract as much attention as possible. If you can, get a group of people to take part and compete for the best/worst hairdo!
-    Quiz: Hold a pub quiz with proceeds going to Amnesty International UK. You can approach local businesses asking them to donate prizes, meaning all money raised from ticket sales can support our work. Raffle off spare prizes to raise extra money. 
-    Clothes swap: Ask people to bring along unwanted clothes to swap or sell. Charge entry and a percentage or flat fee for sales made on the night (swaps are free!) and donate to proceeds to Amnesty International UK. You can also hold a raffle, a bake sale or have a bar at your event.
 
Thank you.