Introduction
Amnesty International is a global movement of over seven million people who stand up for humanity and human rights.
We investigate and expose abuses, educate and mobilise the public, and help transform societies to create a safer, more just world.
Amnesty International UK is part of the worldwide Amnesty International movement, and works to protect women, men and children wherever justice, freedom, truth and dignity are denied. Amnesty International UK is used as a collective name for: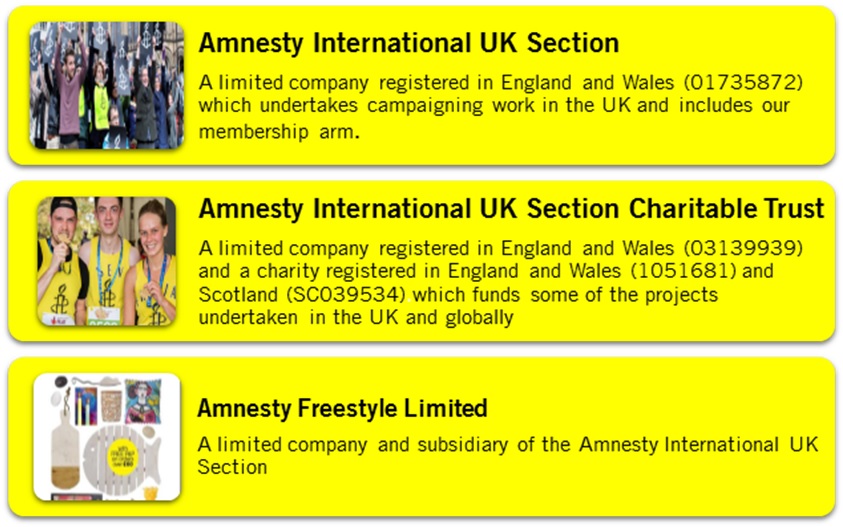 Our commitment to you
At Amnesty International UK, we believe that you have a right to privacy and we take defending that right very seriously.
We are committed to complying with privacy and data protection law and being transparent about what we are doing with your personal information.
Our staff and volunteers in our offices and charity shops all respect and follow data protection principles, which are also outlined in our data protection training. We update this training whenever there is a change in policy or law.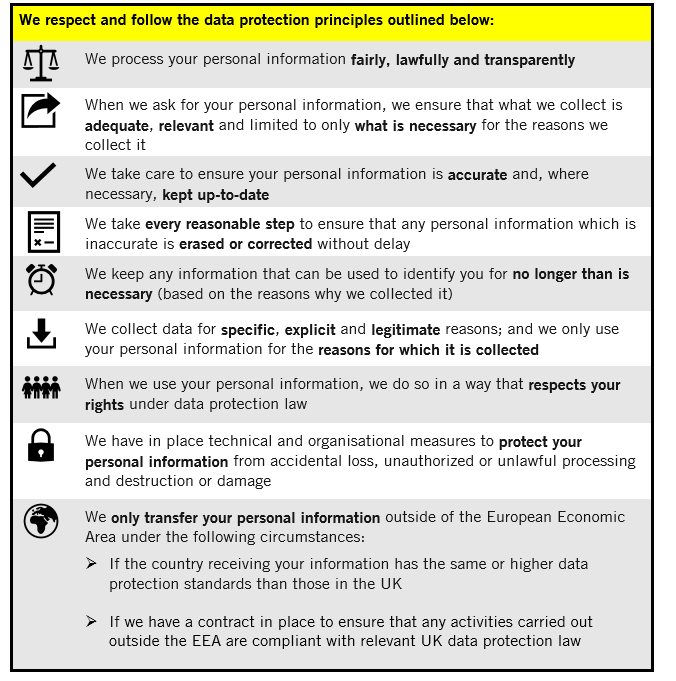 Contact us
If you have any questions regarding our Privacy Policy, please contact our Data Protection Officer:
 

 

 

In writing
The Data Protection Officer
Amnesty International UK
The Human Rights Action Centre
17-25 New Inn Yard
London
EC2A 3EA

 
If you would like to:
change your personal information
change how we communicate with you
request more detail about the personal information we hold about you and how we use it
Please contact our Supporter Communications Team:
 
 

 

 

In writing
Supporter Communications Team
Amnesty International UK
The Human Rights Action Centre
17-25 New Inn Yard
London
EC2A 3EA

 

Email
sct@amnesty.org.uk

Telephone
+44 (0) 20 7033 1777 (Monday to Friday – 9am to 6pm)
What personal information do we process?
We collect information about our members, supporters, staff and volunteers, and the people that we help.
The information we gather may include: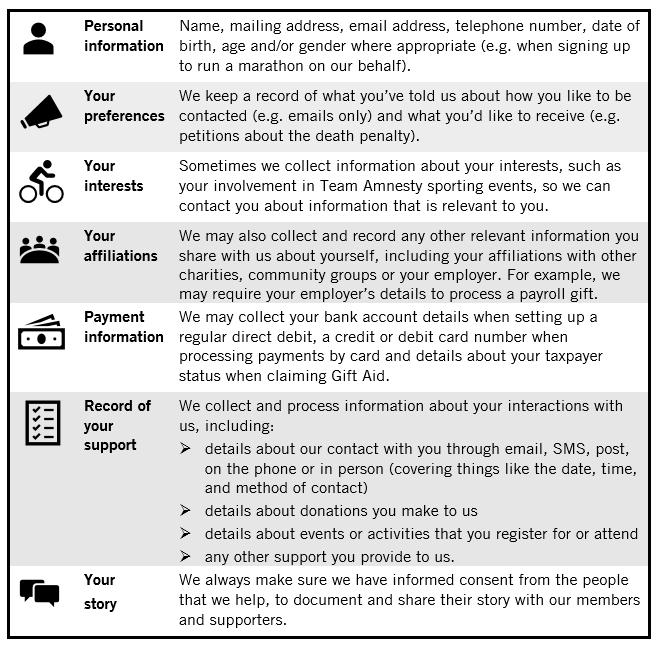 Sensitive data
This category of personal information is more sensitive and could include, for example, a person's race, sexual orientation, trade union memberships, political opinions or information about their mental or physical health.
Generally, Amnesty International UK does not collect this type of personal information. Sensitive personal information may be collected from you if you choose to volunteer with us, sign up to our networks, or attend our events. For example, if you tell us about your special learning needs or dietary requirements, you are disclosing sensitive personal information.
We have additional measures in place to protect your sensitive personal information and its confidentiality. We will use your sensitive personal information to deliver our services to you, to meet your requirements or to deal with any requests made by you.
We will only disclose your sensitive personal information to the third parties as referred to in this Privacy Policy where it is necessary, subject to us putting in place appropriate security or confidentiality obligations.
Children's data
As a global movement of people, Amnesty International UK appreciates our supporters are of all ages. We never share the contact details or personal information of anyone who is under 18 with anyone.
If you are under 13, we will always ask for consent from a parent or guardian to collect information about you. We may also collect the name and contact details of your parent or guardian, where appropriate.
If you are aged between 13-16, we may conduct an additional assessment to ensure it is appropriate for us to collect information from you without the consent of your parent or guardian, and that you fully understand how we will use your information.
All Amnesty International UK events and petitions have clear rules on whether or not children can take part. Where we do collect personal information from children for events and petitions, we always ensure appropriate safeguards are in place.
How do we use your information?
Amnesty International UK respects your right to privacy and your ability to choose how you hear from us.
We will never sell your details to anyone. We also do not make cold telephone calls to members of the public and will never purchase information in order to do so.
In our Supporter Promise, we have committed to making it convenient for you to tell us how you want to hear from us and we promise to respect your choices. This means we carefully manage the communications we send you to ensure we are contacting you in the most appropriate way and we are not sending you irrelevant communications. If you ask us to stop communicating with you, we will unless we are legally obliged to contact you.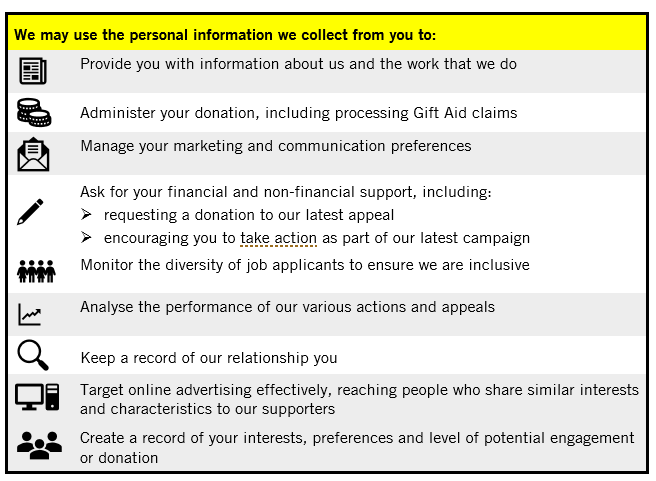 On what basis do we process your information?
To comply with UK data protection law, Amnesty International UK must meet one of six legal conditions of processing.
The legal conditions that we rely on will depend upon the circumstances in which we collect and use your personal information. In most cases, our processing of your personal information will fall into one of the following categories:
Where you have provided your consent to allow us to use your data in a certain way. For example:

Where the processing of your personal information is necessary to carry out the performance of a contract with you

Where the processing of your personal information is necessary for us to comply with a legal obligation

Where it is in our lawful interests to contact you in order to raise funds and deliver on our human rights objectives. This will only happen when we are confident that such processing is not likely to infringe on your rights and freedoms

To find out more information, or if you would like to change how we contact you, please contact our Supporter Communications Team.
Keeping your permissions up to date
If you have agreed to receiving updates about our work, including information about our fundraising appeals and campaigns, we will hold onto your permission for a specific timeframe. This is explained in more detail below.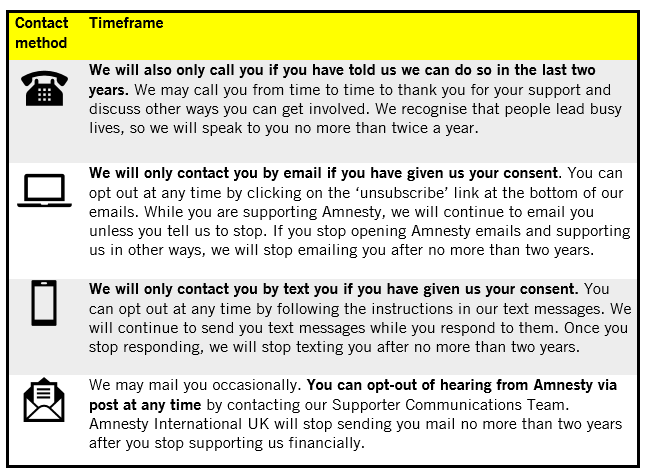 Profiling and research
This section explains how and why we use personal data to build profiles.
This enables us to understand our supporters, improve our relationship with them, and provide a better supporter experience.
If you do not want your personal information to be used in this way, please contact our Supporter Communications Team.
Profiling to help us understand our supporters
We profile supporters in terms of financial support by keeping track of the amount, frequency and value of each person's support. On occasion, we may also combine information about particular supporters with external information (such as directorships listed on Companies House or news about an individual which has featured in the media) in order to create a more detailed profile about a particular individual. In some cases, we will obtain likely indictors of interest or financial status based on your postcode rather than at an individual level. This information won't be specific to you, but probable characteristics based on your postcode.
If, based on information that has been provided to us (such as geographical location, demographics, or previous donations), it appears an individual might be willing and able to provide more financial support we may contact them to see if they wish to do so. We do this to enhance and fill-in any gaps so that we can understand our supporters better, target our resources effectively and make appropriate requests to people who may have the means and the want to give more.

Anonymised data
We may aggregate and anonymise personal data so that it can no longer be linked to any particular individual. This information can be used for a variety of purposes, such as recruiting new supporters, or to identify trends or patterns within our existing supporter base. This information helps inform our actions and improve our campaigns, products and materials.
Analysis and grouping
We analyse our supporters to determine common characteristics and preferences. We do this by assessing various types of information including behaviour (e.g. previous responses) or demographic information (e.g. age or location).
By grouping people together on the basis of common characteristics, we can ensure that group is provided with communications and information which is most important to them. This helps prevent your inbox from filling up, and also means we aren't wasting resources on contacting people with information which isn't relevant to them.
Due diligence
In order to protect the reputation of Amnesty International UK, our fundraising policy and procedures (as well as certain legal and regulatory obligations), may require us to use your personal information to carry out due diligence on your donation. If you choose not to have your personal information analysed for due diligence purposes, we may not be able to accept your donation.
Who might we share your information with?
We will, except as indicated below, only share your details with third parties if you ask us to or where we believe law enforcement requires it.
For example in order to comply with our responsibility to safeguard a vulnerable person.
Third parties
We use service providers (including payment providers, fundraising agencies, mailing houses, mobile marketing providers and software platform providers) to help us send you communications and provide you with our services. We may give relevant persons within these service providers access to your personal information, but only after we have conducted the necessary checks. 
For example, before we share any information with third parties, we put in place a signed agreement which confirms that the personal information we provide will only be used for the purposes we specify, and everything the provider does will be strictly governed by a contract. As part of our agreement, the provider needs to comply with strict security measures, including having a secure method for disposing personal information when it is no longer needed and having a secure process for transferring personal information, for instance by using encryption.
Some service providers may be based outside of the European Economic Area (EEA). However, we will try to ensure that any data transfers outside of the EEA are compliant with relevant data protection legislation and that the processing of your personal information is protected by appropriate security measures.
From time to time Amnesty International UK may work in partnership with other organisations on a fundraiser or campaign. For example, if you signed up to fundraise on our behalf at a marathon, you may receive joint communications from Amnesty International UK and the marathon sponsor, if you have indicated that this is okay.  
If you would like to confirm what information we share about you with third parties, please get in touch with our Supporter Communications Team.
Social media providers
We may share anonymised information with social media providers to help us ensure our posts reach individuals that are likely to be interested in them — saving us money and helping us to achieve the greatest impact.
For example, we include a piece of code on our website or within the body of an email called a pixel tag. Pixel tags allow us to understand and evaluate our advertising activity. If you prefer for this not to happen, you can set preferences for how Facebook advertises to you using Facebook ad preferences.
Other Amnesty Sections and Structures
Amnesty International is an international movement, made up of more than 70 countries (also known as sections or structures) working at a national or regional level in support of human rights.
In some circumstances, such as when an individual signs a petition from a country outside of the UK, Amnesty International UK may need to disclose your information - with your consent - to a more relevant section or structure so that they can best manage a relationship with you and provide you with any necessary support. Any such personal information will be transferred in accordance with the relevant national data protection legislation.
How long do we hold onto your personal information?
We will hold your personal information on our systems for as long as is necessary for the relevant activity.
For example, we will keep a record of any donations you have made for at least six years.
In some circumstances, we may legally be required to retain your personal information for audit purposes. The table below outlines our retention periods for different kinds of personal information.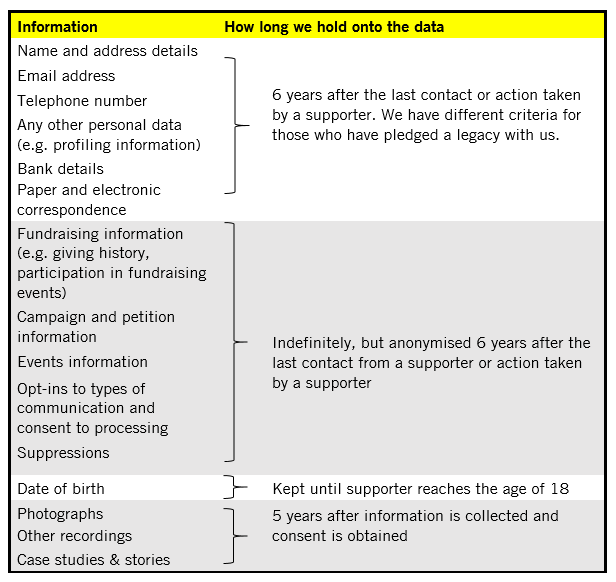 Legacy Supporters
Legacy income is vital to sustaining Amnesty International UK's work. We may keep data you provide to us indefinitely, both to administer legacy gifts and to communicate effectively with the families of people leaving us legacies. This also enables us to identify and analyse the source of the legacy income we receive.
How do we keep your personal information safe?
Amnesty International UK has robust measures in place to ensure our processes, policies and our physical and technical systems are secure.
We work hard to ensure your information is treated securely and will take appropriate precautions to protect all personal information we keep on file, including encrypting any personal information we transfer and monitoring access to our networks and systems.
We also take care to ensure our suppliers (e.g. payment providers) have secure systems for processing your personal information. For example, our current payment service provider uses a range of methods to protect your personal information - including a secure payment gateway, fraud screening and IP address blocking.
We report to both our Boards (relating to the Amnesty International UK Section and Amnesty International UK Charitable Trust) on data protection through regular meetings and other appropriate channels when required.
Despite our best efforts, any information sent over the internet isn't always secure, and may be intercepted or changed after it has been sent. Amnesty International UK does not accept liability for this if this happens.
How we keep your information up-to-date
Keeping your personal information safe is very important to us. We have put in place controls to ensure that the personal information we process is accurate and up-to-date. We have secure charity database software to record and respect the contact preferences of our supporters, including whether they have signed up to official 'opt out' services such as the Telephone Preference Service.
We screen our database and undertake data cleaning to ensure we keep accurate records of personal information in our database. This ensures we reduce waste and the inefficiency associated with sending communications to people who do not want to receive them.
We continually strive to improve the quality and accuracy of the information you have provided, such as your contact details, by checking against (where relevant):

This helps us to ensure our records are fully up-to-date and to avoid wasting resources on mis-directed communications.
Our data protection procedures
We have multiple policies and procedures to help our staff and volunteers look after personal information. These cover a range of topics, including:
Our fundraising policy
Our staff and volunteer data protection responsibilities, including data protection guidance for Local Groups and a training programme
Our data retention schedule
Our marketing approach to supporters, including telephone marketing
Our Subject Access Request procedure and form
How we comply with data protection principles
How we collect and use children's personal information
How we collect personal information, including from the public domain
How we take and use photographs, video, webcam footage and other recordings
How we manage a data protection breach
Please contact our Data Protection Officer if you would like a copy of any of these policies and procedures.
Our Data Protection Training
We provide data protection guidance and training for our staff and volunteers in our offices and bookshops so they are aware of their data protection responsibilities. Training is provided when staff and volunteers first join us and every year after this as refresher training.
Our data protection training covers UK data protection law, the risks associated with using personal information and how to handle personal information responsibly in compliance with the law.
Our Data Protection Officer
Amnesty International UK's Data Protection Officer oversees compliance with data protection laws and is our main point of contact for data protection enquiries.
Our Data Protection Officer is responsible for:
Training all our staff and volunteers involved in data processing
Educating the organisation on the importance of being compliant
Maintaining comprehensive records of all data processing
Providing guidance and advice to the organisation and our staff and volunteers as required
What data protection rights do you have?
You are in control of how we use your data and you have the right to ask us to stop processing your personal information, which we will do.
You also have the right to request a copy of the information we hold about you.
Under the EU General Data Protection Regulation (GDPR), which comes into force in the UK from 25 May 2018, you are also granted a number of additional rights, which are outlined below.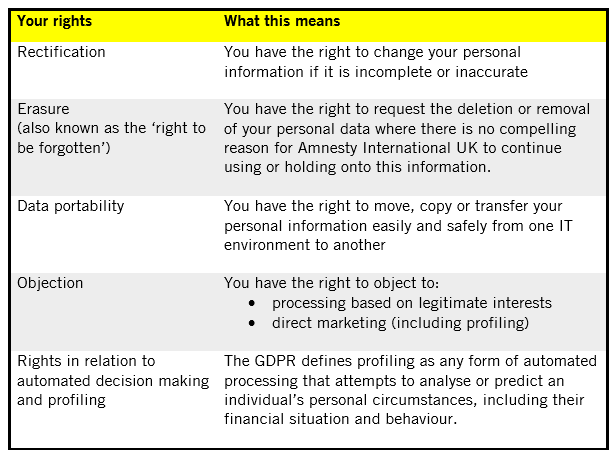 For more information on these rights, please read the guidance issued by the Information Commissioner's Office. 
At Amnesty International UK, we make it clear and easy for you to exercise these rights and choose how you want to hear from us.
You can also change any of your marketing preferences at any time, including telling us that you don't want us to contact you for marketing purpose, by:
Indicating that you do not wish to receive our fundraising or campaigning emails by clicking the 'unsubscribe' link at the footer of these emails
Asking us to stop sending you marketing texts by sending us an "opt-out" text message - following the instructions we provide you in the marketing texts you receive from us
Contacting our Supporter Communications Team
Entering your details on the Fundraising Preference Service (FPS) website and choosing 'Amnesty International UK' (Charity Number 1051681). The FPS is run by the Fundraising Regulator, and allows you to stop email, telephone, addressed post, and/or text messages from a selected charity or charities by using the online service at www.fundraisingpreference.org.uk or by calling the telephone helpline on 0300 303 3517. Once you have made a request through the FPS, we will ensure that your new preferences take effect within 28 days of your request. 
How to make a complaint
Listening and responding to feedback from our supporters and members is very important to Amnesty International UK. You can make a complaint or raise a concern about how we process your personal information by contacting our Data Protection Officer.
We will acknowledge a complaint about any aspect of our data protection policy within 5 working days and aim to resolve complaints within 10 working days of receipt.
If you are dissatisfied with our response, please contact us using the details below.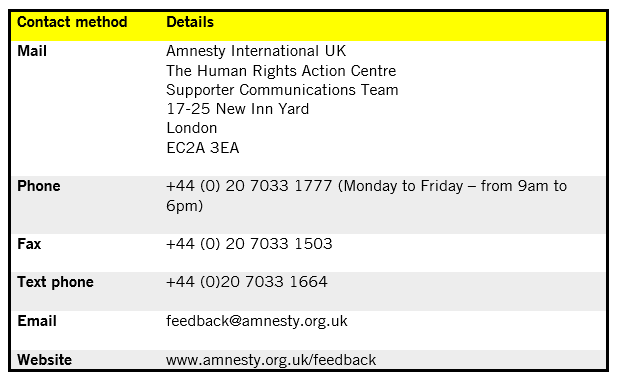 If you are not happy with how we have handled your complaint, you can contact the Information Commissioner's Office, which oversees the protection of personal data in the UK, or the Fundraising Regulator, which is responsible for overseeing fundraising activities carried out by charities in the UK.
Alternatively, you may choose to contact either the Information Commissioner or the Fundraising Regulator directly about your complaint, regardless of whether you have raised it with us first.
Subject Access Requests
If you would like more detail or a copy of the personal information that Amnesty International UK keeps on file about you, please complete our Subject Access Request form and return it to our Data Protection Officer. Completing this form will help us provide you with a quick and accurate response to your enquiry.
Anyone can make a request for a copy of the information that Amnesty International UK keeps on file about them free of charge. We will only charge a reasonable administrative fee for this request if the request itself is excessive or repetitive.
Changes to this Policy
This Privacy Policy may change from time to time.
For example, we will be updating it to reflect legal requirements of the General Data Protection Regulation, which takes effect in the UK on 25 May 2018.
Please visit this website section periodically to keep up-to-date with the changes in our Privacy Policy.