Dear colleagues
The very first meeting of Amnesty's Global Assembly took place earlier this month (6-8 July). It coincided with the end of Salil Shetty's term of office as the global movement's Secretary-General. Delegates bade him an affectionate farewell, acknowledging the tremendous changes he had made for the better. We are a more diverse, more global and more harmonious organisation than when he joined us.
Our new Secretary General, Kumi Naidoo joins us, having previously led Greenpeace and grassroots movements in his native South Africa. He appears to have a different style: he made a valiant attempt to get us to sing which was amusing, if not entirely musical. Kumi is an impressive and inspiring public speaker, with a strong interest in the human rights impact of climate change: as Amnesty UK proposed the resolution on this issue last year, we felt rather pleased with our timing. Kumi talked about the setbacks the human rights agenda has faced recently but is inspired by the fight back from women and young people. He said we can either tolerate injustice or refuse to adjust to a broken society. Invoking Martin Luther King, he invited us all to become "maladjusted" to cruelty and inequality.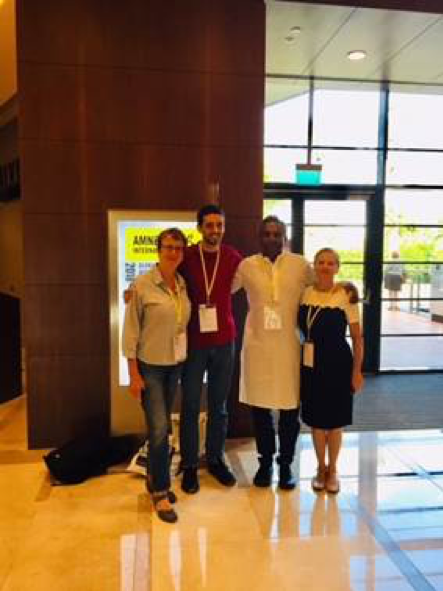 Diversity was an important theme of this meeting. An analysis of who was attending showed that the international leadership of Amnesty was still 46% European. 58% identified as female. Our age diversity was good, as was sexual orientation, but rather shockingly only 4% of delegates were not graduates. We are definitely not representative of society and if we are to achieve human rights impact, that will have to change.
There were few motions to this meeting as we all adjusted to a new format, and all were passed following some amendment.
The Global Assembly agreed to extend the current Strategic Goals period by an extra year (to 2020). This was uncontroversial.
The Abortion Policy framework was passed by a very large majority. Concern was expressed about term limits and the possibility of enabling gender-selective terminations, but the Assembly received reassurance from the International Board and passed the resolution. This is a tremendous achievement for Amnesty UK, the original call for a change of policy came from our AGM.
A proposed framework for a policy on drugs was amended by Amnesty UK to include a reference to human rights harm in producer countries, though the main thrust of the policy is towards moving the use of drugs from a criminal procedure to a health issue. The final version was passed by consensus.
Changes to the Global Governance regulations, terms of reference for the International Nominations Committee and the Membership Review Committee were all passed.
A motion suggesting preferential voting for international positions was amended to asking the International Board to assess a variety of voting methods & was then passed by consensus.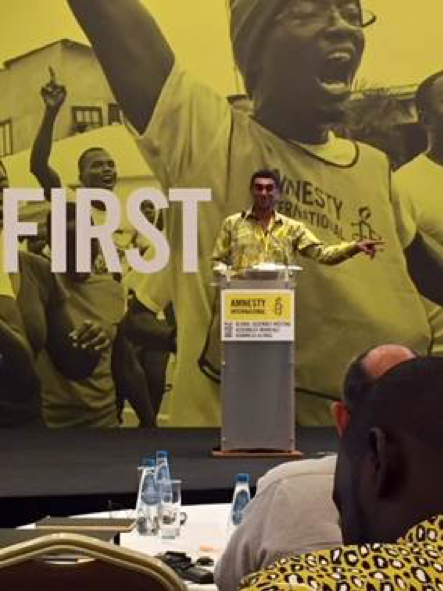 The climate change policy is still in the drafting phase and comments are invited until mid-August. My fellow Board member Tom Sparks led a session on the human rights impact of environmental degradation which was one of the most interesting of the whole weekend. This provided an opportunity to discuss the draft strategy for climate change which we called for last year – another measure inspired by decisions reached at our AGM.
The Global Assembly took the opportunity to show solidarity with the protestors in Poland who are faced with the disappearance of abortion rights and government manipulation of the judiciary.
We also held solidarity actions for Taner in Turkey and Oleg Sentsov in the Ukraine.
There were useful opportunities for learning and sharing ideas for tackling demonising language, how to build our capacity, and the role of the Standing Representatives. We also had an opportunity to hold to account the International Board under the new Chair Mwikali Muthiani and the treasurer.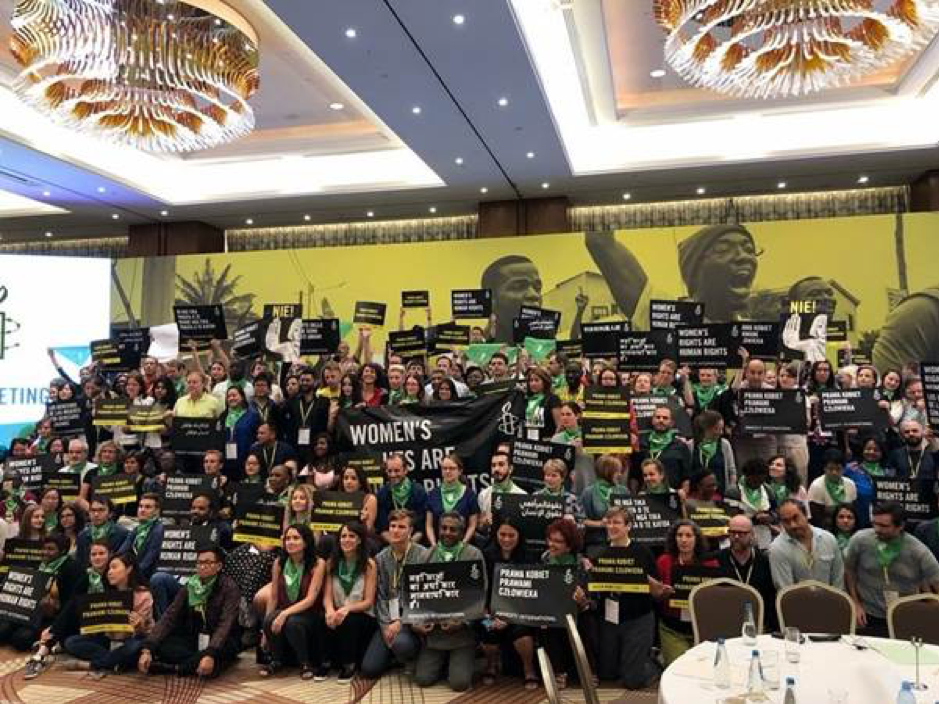 As always, the most inspiring aspect of the conference was our international colleagues. Amnesty Venezuela spoke about how they are campaigning on the right to health care as the closure of half of the countries hospitals has led to a 65% increase in maternal mortality in one year. Other colleagues described receiving death threats . The constant level of stress and threats faced by our colleagues is sobering. We will need to be a more impactful and sustainable movement if we are to support our Amnesty partners and tackle the changing climate for human rights.
Finally, I would like commend the work of your delegation. Tom Sparks worked extremely hard on improving the wording of motions and his attention to the detail of Amnesty documentation is impressive. Kate Allen's contribution to the international work of Amnesty is often low profile. On top of her work for us, she is a member of the Global Management team, the Middle East and North Africa (MENA) Regional Advisory Forum and oversight groups which support the Secretary General. This is a considerable workload. Her impact on Amnesty internationally is quietly constructive and is much valued by the movement.
Best,
Ruth