Book an Amnesty Trainer to deliver a human rights workshop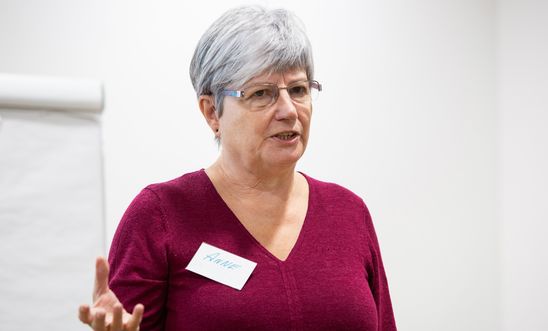 © Carmen Valiño / Amnesty International UK
We provide trainers to run free human rights workshops and training sessions to Amnesty groups and community groups.
Our Amnesty Trainers deliver human rights education across the UK, you can book your nearest trainer here.
What Amnesty Trainers do
Through engaging resources and interactive workshops, our Amnesty Trainers bring human rights education to life. All our trainers have skills and expertise to deliver engaging and interactive training and workshops on human rights issues, our campaigning work and on skills development.
Topics include:
Introduction to human rights and our work
Current national or global campaigns, including the I Welcome, BRAVE and Ban Israeli Settlement Goods
Skills training, including lobbying and campaigning
Specific human rights themes, including refugees and the death penalty
Our trainers work with diverse audiences, whether it is a coffee morning at your local community group or a professional team training day at your work place.
Amnesty Trainers also work closely with Amnesty Local and Student groups, training and developing the skills of our activists.
Book an Amnesty Trainer
Interested in one of the human rights workshops above? Book an Amnesty Trainer to deliver a human rights workshop.
Feedback on a training session
Please feedback on your Amnesty Trainer visit
Your feedback informs our future work and training needs and is invaluable to our trainers.
Book your training at the Human Rights Action Centre
If you're interested in running the training here at Amnesty's Human Rights Action Centre in London, please read our page on venue hire and email the Education team at hre@amnesty.org.uk