Amnesty International Freedom of Expression Award Self Nominations Now Open!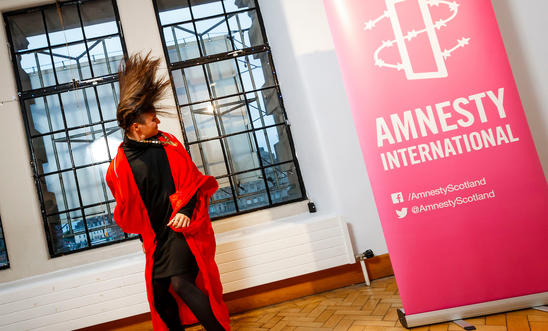 Last year's winner #JeSuis © Roddy Scott
Guest blog by Amnesty International Scotland Freedom of Expression Award Coordinator Robyn Pattison.
Each year, Amnesty International honours theatre productions highlighting human rights issues at the Edinburgh Fringe Festival. A team of dedicated volunteers and professional theatre critics review each longlisted show across the month of August. Human Rights affects us all and theatre often depicts these pressing issues in such an inspiring way. In the past we have seen productions that have dealt with trans rights, LGBTI issues, refugees and asylum seekers amongst a plethora of others.
Self-Nominations for the longlist are now open! Click here for a chance to win this amazing award.
Last year #JeSuis, choreographed by Askash Odedra, won the award for their spectacular show depicting freedom of speech and giving voices to displaced people that are often forgotten about.  
Naomi McAuliffe, Amnesty International Scotland's Programme Director, had this to say about last year's awards:
"We are thrilled to honour #JeSuis with the Amnesty International Freedom of Expression Award 2017 – this is an exciting new art form for this prize. #JeSuis is a powerful wake up call to everyone on the climate of violence and oppression that people in Turkey are currently enduring. To see attacks on freedom of expression portrayed though the medium of dance is incredibly powerful and accessible even for those with no experience of dance performances. A production addressing freedom of expression in Turkey is particularly resonant for us as an organisation as our colleagues from Amnesty International Turkey are currently languishing in jail.
This year we have highly commended Woke – a hugely important timely piece of theatre educating the audience as to the structural nature of racism in the US and the impact that it has when policing and judicial processes lose legitimacy. It s even m9ore urgently relevant given the violence and discrimination we witnessed this month in Charlottesville, and President Trump's failure in leadership to clearly Condemn white supremacy"
Past winners include Glasgow Girls (2016), A Girl is a Half-Formed Thing (2015) and Nirbhaya (2014). These productions have tackled the issues of child abuse, gender-based violence and our right to privacy.
About Amnesty UK Blogs
Our blogs are written by Amnesty International staff, volunteers and other interested individuals, to encourage debate around human rights issues. They do not necessarily represent the views of Amnesty International.
View latest posts