Why Amnesty International's Media Awards are so crucial
Xan Rice is features editor of the New Statesman. He previously worked as a foreign correspondent in Africa for the Times, the Guardian and the Financial Times. His work has appeared in the New Yorker, the Atlantic and Granta.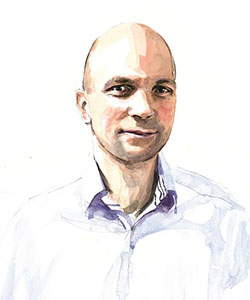 When I started out in journalism 14 years ago, there was already a sense that the "golden age" of being a reporter was coming to an end. Older hacks lamented the demise of the long lunch, the fat expense account and the luxury of spending many days or even weeks on a single story. Newspapers now had websites and it was clear even then that the internet would change the face of reporting forever. 
Even so, when I arrived in Nairobi to work as a stringer for The Times two years later I was still able to travel the African continent easily to cover important stories. In the first few months, I reported in northern Uganda, Darfur and Somalia. I was not alone. The Guardian, Financial Times, and the Independent all had foreign correspondents in Nairobi, as did the New York Times, Washington Post and LA Times.
We roamed the region, covering one crisis after the next. It was fun and, we told ourselves, a worthy job. Sometimes one of us was even shortlisted for an award. An Amnesty International nomination was especially prized, for if anyone knew what an important story was, it was Amnesty.
Year by year though things began to change. Correspondents departed and weren't replaced. Budget cuts meant it became harder to obtain permission from editors to travel. And although the stories were still there, the reporters were often not.
Of course there are some journalists who continue to produce remarkable news stories and features about human rights abuses and injustice around the world. But more often than not, these determined journalists do so with fewer resources, and only after having spent much more time and energy convincing editors of the merits of the story than they would have had to a decade ago.
All this makes the Amnesty International Media Awards more crucial than ever. For the persistent and brave reporters – particularly freelancers who deserve extra credit – appearing on the shortlist is proof that their work is still greatly valued in society. Commissioning editors too feel vindicated. For those further up the media hierarchy, the prizes serve as a reminder of the power of journalism to expose suffering and hold those responsible to account - and an incentive to fund more reporting of this sort.
About Amnesty UK Blogs
Our blogs are written by Amnesty International staff, volunteers and other interested individuals, to encourage debate around human rights issues. They do not necessarily represent the views of Amnesty International.
View latest posts