From football to falafel - Palestinian footballer Mahmoud Sarsak on prison, torture and how his national dish changed his life
As Jerusalem waits to hear in September if it will be a host city for Euro 2020, Palestinian footballer Mahmoud Sarsak, who spent three years in an Israeli jail without charge or trial, is concerned that sportspeople like him are being deliberately targeted by the Israeli authorities. He talks to Amnesty International UK about the torture he suffered in custody, the hunger strike that brought him close to death, and how falafel has changed his life.
The young man serving falafel from his stall tucked into a corner of a bustling south London market and joking in broken English with an ever growing queue of customers is in his element.
Once a showman on the pitch with the Palestinian national football team, Mahmoud Sarsak's flair for charming his fans and conjuring tricks with a ball has transferred well to serving up his national dish for Londoners. He sings and dances while he works and pulls the odd prank on unsuspecting customers.
The same customers would be surprised to find out that just two years ago, the 27-year-old chopping garlic and frying chickpeas on a portable gas cooker was released from an Israeli jail after being held for three years without charges or trial. Three years in which he says he was tortured in an attempt to get him to confess to being a jihadi, a Fatah fighter and having links to Hamas - accusations he strenuously denies to this day. He believes it wasn't just chance that he was locked up.
"Many Palestinian sportspeople are, or have been, in Israeli prisons, and when you see how they treat us, maybe we are being targeted on purpose," he says.
For Sarsak, once a centre forward with Gaza's Khalamat Rafah - the team that has just won the Palestinian league - and a regular in the national side, football is in his blood. He is one of seven brothers, five of whom have played professional football in Palestine. His father played semi-professionally in Egypt in the 1970s.
Growing up in the narrow alleyways of Al Shabora refugee camp in Rafah, Gaza, Sarsak says that he and his brothers played football every hour they could. With no grounds to play on, the dirt streets became their pitch.
"The Israeli siege of Gaza means that toys are really expensive so all we had was a football," he explains. "When it got punctured we used to put a balloon inside the ball, sometimes two balloons, and blow them up to keep the ball inflated because we knew we wouldn't be able to get a new one."
Citing his football heroes as former Brazil international Dunga, France's Zinedine Zidane, Italy's Alessandro Del Piero and England's Paul Scholes, Sarsak was scouted as a seven-year-old by Khalamat Rafah and made his way up through the ranks to the senior team.
But that all came to an end when he was arrested at an Israeli checkpoint in July 2009 on his way from Gaza to his new club Balata Youth in the West Bank, where he'd just signed a two-year contract.
"I was travelling with four other footballers in a taxi. When we got to the checkpoint at the Erez crossing into Israel, they separated us and started questioning me," Sarsak explains.
"They handcuffed and blindfolded me and took me to an interrogation room in the basement – 'Who are your brothers? Where are you staying in the West Bank?' they asked me. I wasn't worried because I knew I hadn't done anything wrong."
After many hours of waiting at the checkpoint and further questioning, Sarsak's team mates were released, and things took a more sinister turn. Soldiers put him into an army tank and drove to a police station. They asked him for a phone number for his family.
"I overheard them telling my brother I was going to prison," he says. "That was the first I knew about it." What the then 22-year-old didn't know was that it would be three years before he would see his brother, or any of his family, again.
In prison, Sarsak says he was subjected to various forms of torture. He says he was hung from the ceiling by handcuffs and made to sit on a stool for hours with his hands and feet shackled together behind him. At other times he was left in a room with loud music blaring for 10-12 hours a day, tied to a chair in a refrigerated interrogation cell where he would sometimes lose consciousness from the cold, or locked in a dark room with no natural light, or in one with light so bright it was impossible to sleep.
"They told me 'You're a jihadi, you're involved with Hamas, with Fatah. You know where Gilad Shalit is [the Israeli soldier kidnapped by Hamas militants and released in 2011 after five years in captivity]'. I told them, I'm a footballer, I don't work with anyone, I'm a student and I live with my family. I have no time for politics, I am a sportsman."
"I wasn't allowed to fall asleep, if I looked like I was going to they would hit me with their hands, with a radio, to wake me up. Once when they hit me they broke my two front teeth," he says, pointing to the damage that's now been patched up by a dentist.
For the next three years, Sarsak says he was moved from prison to prison, sometimes held in a metal container in the desert, in a tent or a cell.
"It was so hot and very dirty in the containers. Lots of people were sick, some had cancer but they weren't getting treatment," he explains. Indeed one of his fellow prisoners Zakaria Issa, also an international footballer, had been suffering from blood cancer and was denied treatment. He died a month after being released.
Sarsak says that knowing he himself was innocent allowed him to keep his hopes up for a while, but his sentence kept being extended for six months at a time. On the fourth occasion this happened, he decided to take drastic action.
"I had already decided that if they extended it again I would go on hunger strike. I was in prison for no reason, I thought I can't continue life like this. I thought this is not life."
His hunger strike, which began on 4 March 2012 and lasted 101 days, brought him close to death. He lost half his body weight and suffered temporary blindness and deafness. The impact of that and the torture he suffered mean he's unlikely to play professional football again.
The hunger strike led to a series of protests in London and Sarsak became a cause célèbre for football fans, including Celtic FC's Green Brigade.
FIFPro, which represents professional footballers from across the globe, called for his immediate release. This was followed by similar demands from footballers Eric Cantona, Frédéric Kanouté, Abou Diaby and Lilian Thuram. UEFA president Michel Platini and Fifa president Sepp Blatter also joined the call.
Beyond football, film director Ken Loach and author Noam Chomsky requested Sarsak's release. Amnesty International called for him to be admitted to hospital or freed, citing his having been denied proper access to medical treatment which amounted to inhuman and degrading treatment. The international outcry finally led to his release on 10 July 2012.
"Maybe I'm lucky that I'm a footballer because that meant lots of people were speaking about what happened to me and that helped me get out of prison," he says.
Sarsak is not the only Palestinian sportsperson who has felt the full force of Israel's security services in the last few years. In March, two footballers, Jawhar Nasser Jawhar, 19, and Adam Abd al-Raouf Halabiya, 17, were reportedly shot in the legs and feet by Israeli soldiers at a checkpoint on their way home from training (Israel said they had been throwing bombs, which they deny). This led to renewed calls for Israel to be suspended from Fifa. The teenagers' injuries mean they too are unlikely ever to play football again. And around the time of Mahmoud's arrest in 2009, three national team players - Ayman Alkurd, Shadi Sbakhe and Wajeh Mostahe - were killed during a bombing raid on Gaza.
Dave Zirin, sports editor of The Nation magazine, explains that during that raid the National Stadium and the offices of the Palestinian Football Association were also targeted. In addition, Palestine's goalkeeper, Omar Abu Rwayyis, was arrested by Israeli police in 2012 on 'terrorism charges' – incidents which Zirin says may point to an attempt to use sport to undermine Palestinian claims to nationhood.
Writing in The Nation Zirin says, "If you degrade the national team, you degrade the idea that there could ever be a nation….
"Sports represent escape, joy and community, and the Palestinian national soccer team, for a people without a recognised nation, is a source of tremendous pride. To attack the players is to attack the hope that the national team will ever truly have a home."
Sarsak estimates there are at least another six sportspeople in Israeli prisons today. In a further blow to the development of the Palestinian game, the Israeli authorities often refuse exit visas to footballers so they can't travel to games, he adds.
In September, the host cities for the 2020 European Championships will be announced. Jerusalem has put in a bid, leading to calls on Uefa from writers, film makers and religious leaders to leave the city off the list on human rights grounds, citing the shooting of the two teenage footballers among other abuses.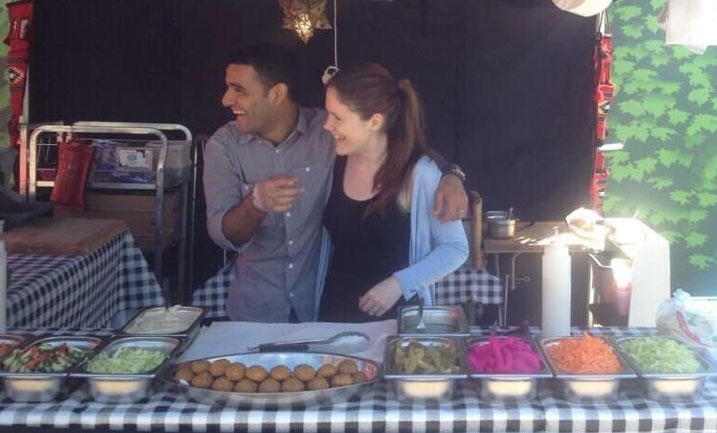 Last year, Sarsak came to the UK on a speaking tour organised by the Palestine Solidarity Campaign (PSC), Football Beyond Borders and Red Card Israeli Racism. He was travelling around the country, when he met Victoria, the daughter of a PSC member with whom he was staying for a few days. They fell in love and, after a three-month romance, got married. Strapped for cash, they came up with the idea for the falafel stall. It has become so successful they have now set up in two more London markets, and have just employed their first staff member.
Will he go back to football now? "I don't know," he says. "My back and shoulder are still damaged from when I was hung from the ceiling and we are very busy with the business. But if we can get more people involved so I don't have to do so much work…maybe…"
He doesn't sound convinced. It looks like football's loss may be a food lover's gain.
About Amnesty UK Blogs
Our blogs are written by Amnesty International staff, volunteers and other interested individuals, to encourage debate around human rights issues. They do not necessarily represent the views of Amnesty International.
View latest posts