Justice denied - a sign of the Bolivian times
The year was 2000, the place La Paz, Bolivia. It was late July and the city, in fact the whole country, was simmering.
Just months earlier, this land locked state had been rocked by the 'Water Wars'. These mass protests which began the previous December in the country's second city Cochabamba against privatisation of the municipal water supply, had by April spread throughout the country with an ever increasing list of demands, calling on the government to deal with rising unemployment and low pay.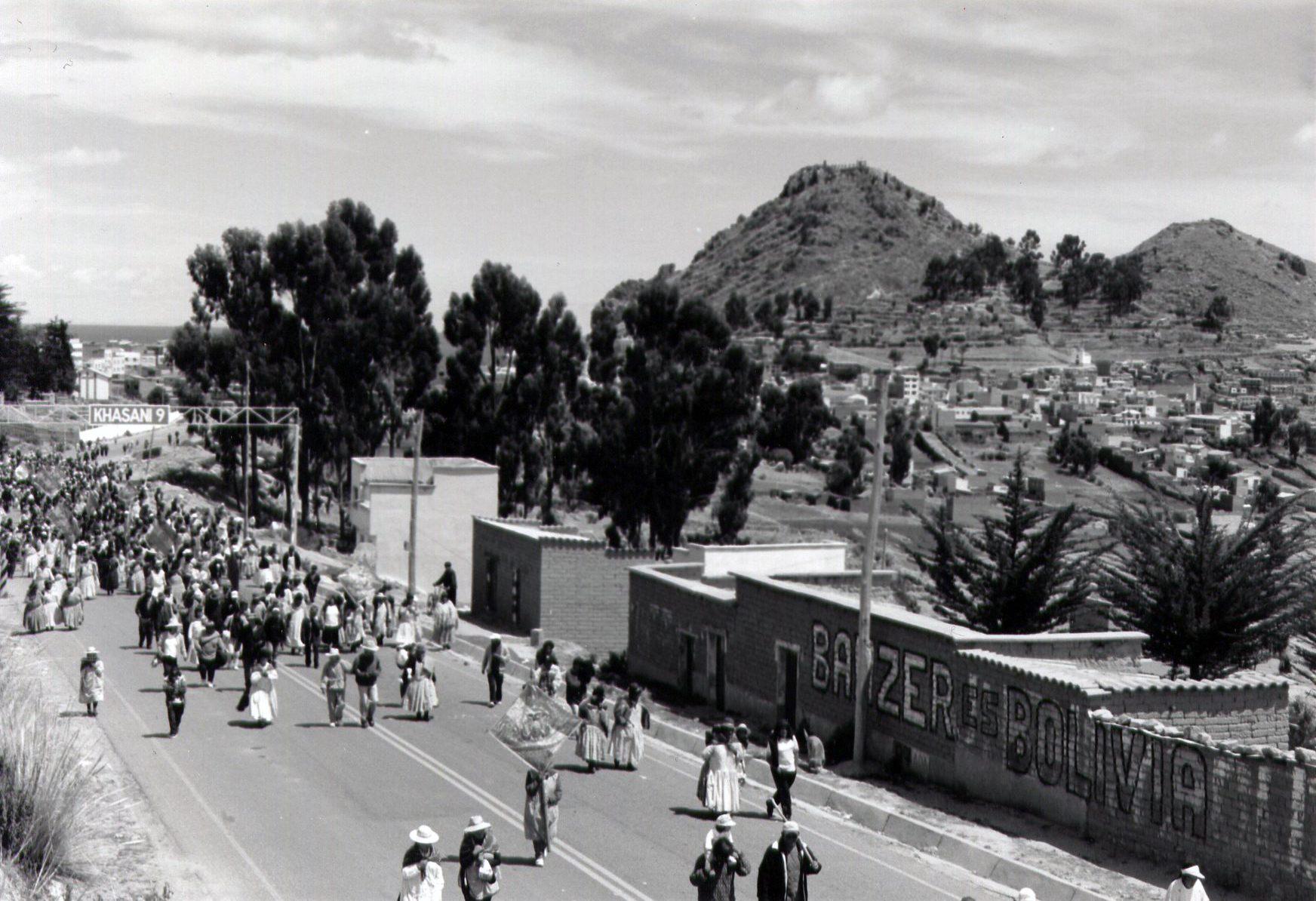 Anti-government protests near Copacabana on Lake Titicaca, near Bolivia's border with Peru © N Westland
Protestors barricaded major roads into cities, the police went on strike, food shortages took hold and a state of emergency was declared. Soldiers fired on protestors, police officers fired tear gas at soldiers, protestors reportedly beat to death an injured army commander, dragging him from his hospital bed. In all, demonstrations that Spring left six people dead and hundreds injured.
Now, with the government having failed to deliver on a number of promises made to bring about an end to the unrest, and lack of action on other pledges to alleviate poverty and provide better access to, well, just about everything, almost everyone it seemed was on strike. Again.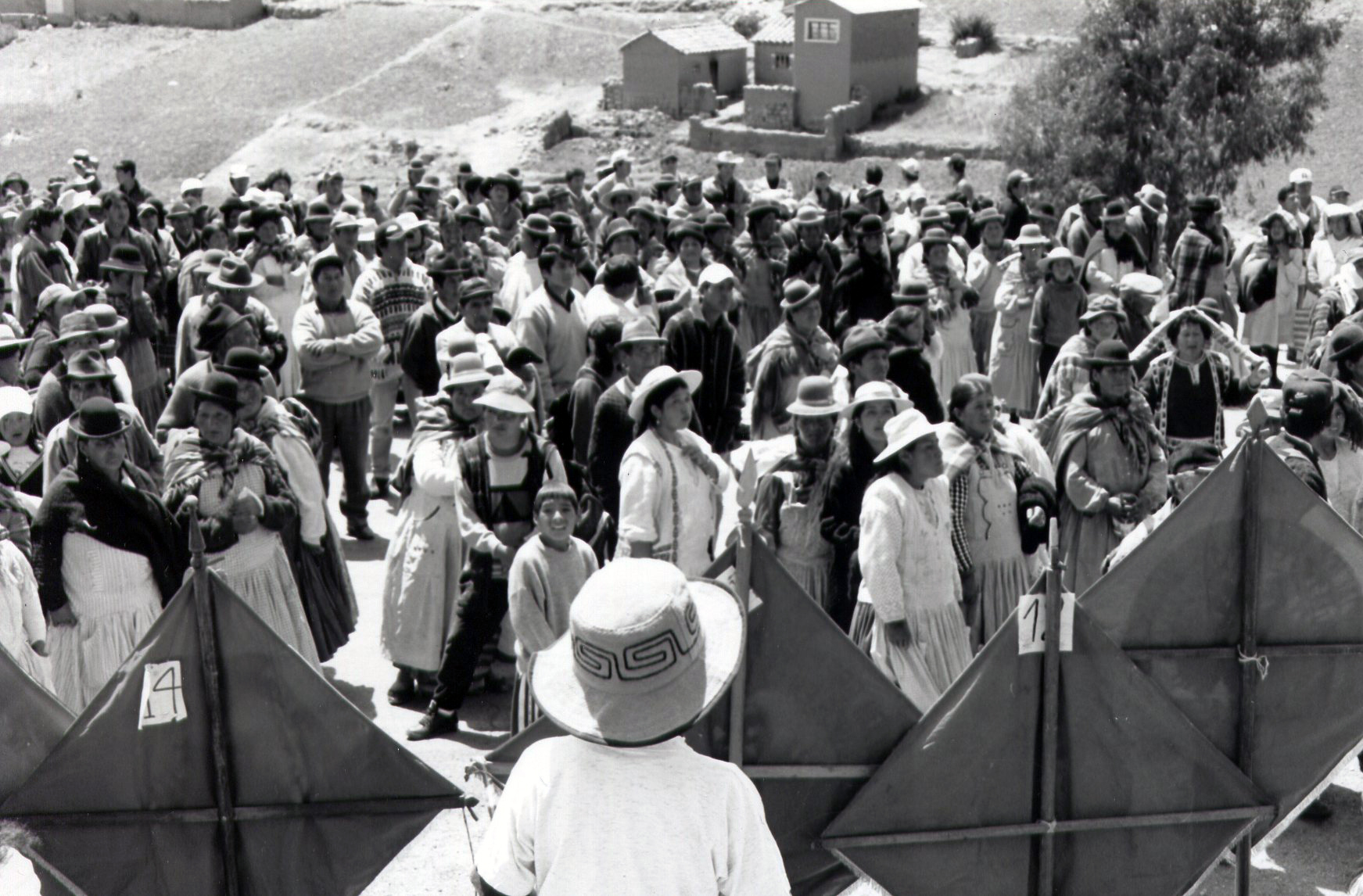 Anti-government protests near Copacabana, Lake Titicaca © N Westland
Miners hadn't been paid. Journalists were facing a new gagging law. Farmers were still having to take their goods to market on dirt tracks after the foreign money for paved roads often mysteriously dried up half way through. Mothers seeking justice for the disappearance, torture and murder of their children and husbands during the long dark days of dictatorship which had come to an end 20 years previously were still waiting for their day in court.
It was into this atmosphere that as a young reporter I stepped off a plane at La Paz airport and into a job on a small English language newspaper – the Bolivian Times.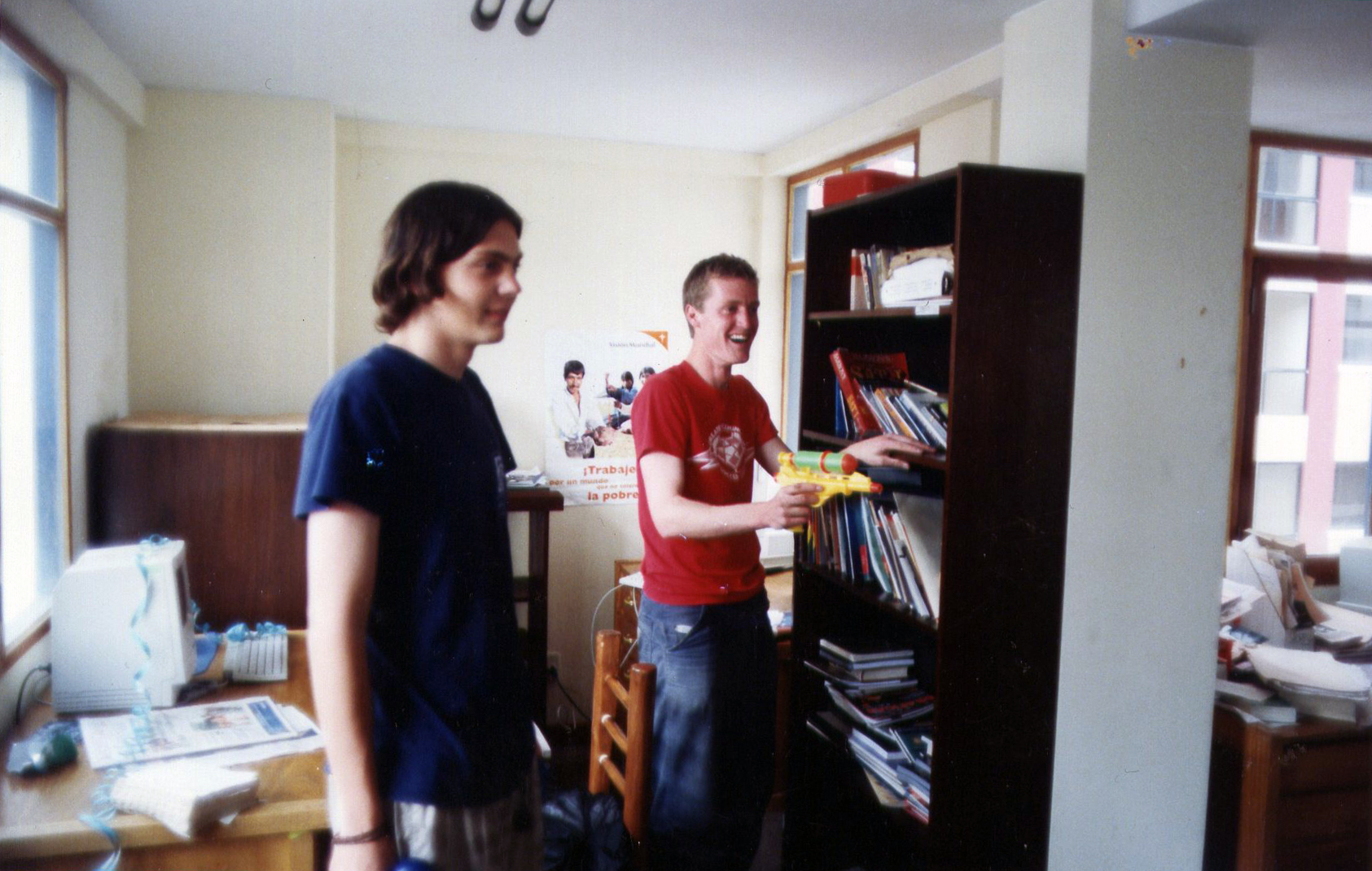 Colleagues at the Bolivian Times © N Westland
It was, it has to be said, an exciting time for a keen, idealistic journalist. There were stories everywhere. In every conversation; down every side street; in the bars and cafes around the capital's main thoroughfare known as the Prado, where shoe shine boys and girls polished office workers' brogues; in the markets and boxing rings of El Alto, the sprawling shanty town high on the altiplano above La Paz; on the coca farms near Coroico, the prisons of Chapare, and of course in every protest and strike. There was certainly no shortage of things to write about.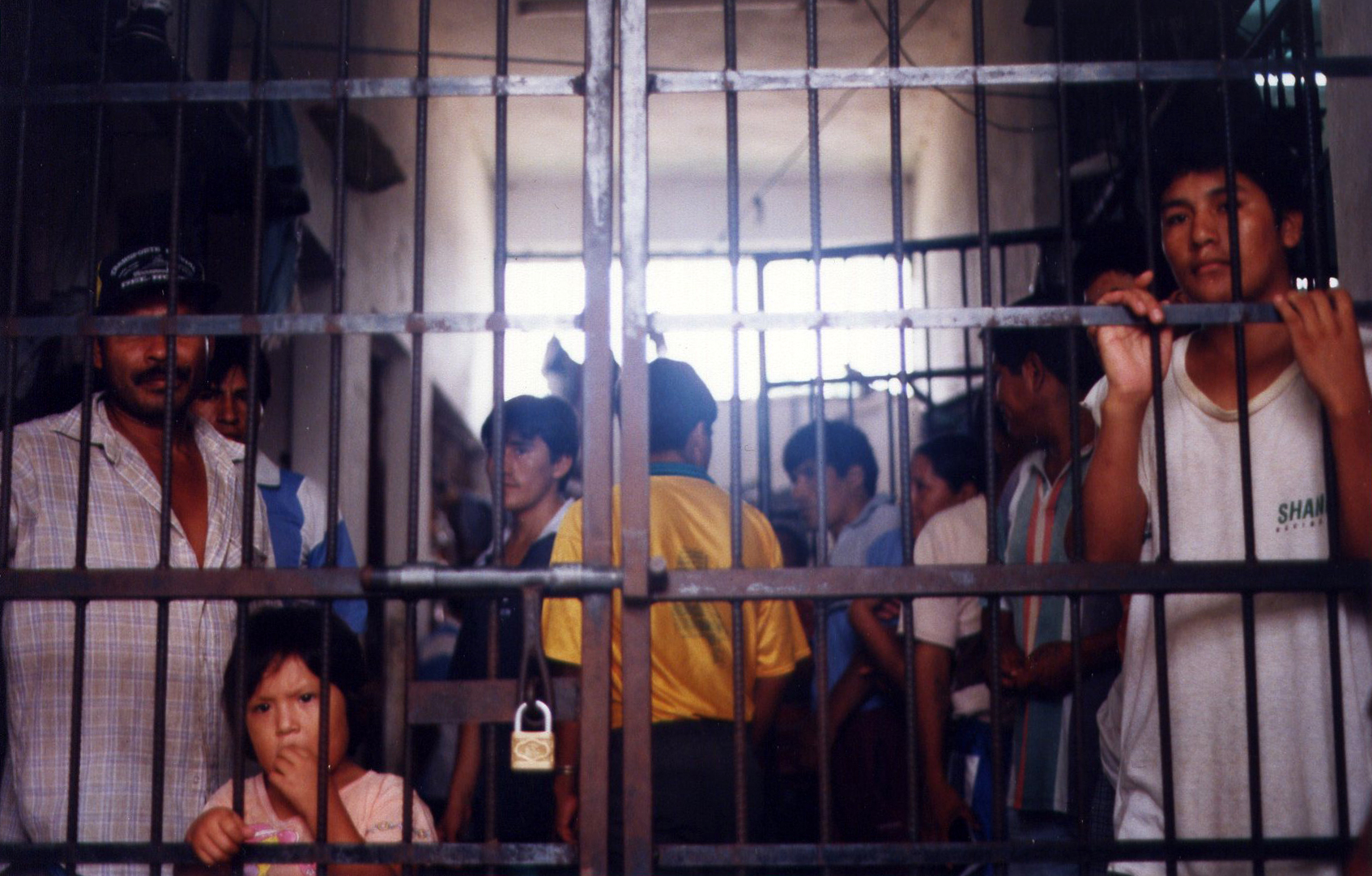 Prisoners arrested under the coca eradication programme at an army base prison in Chapari © N Westland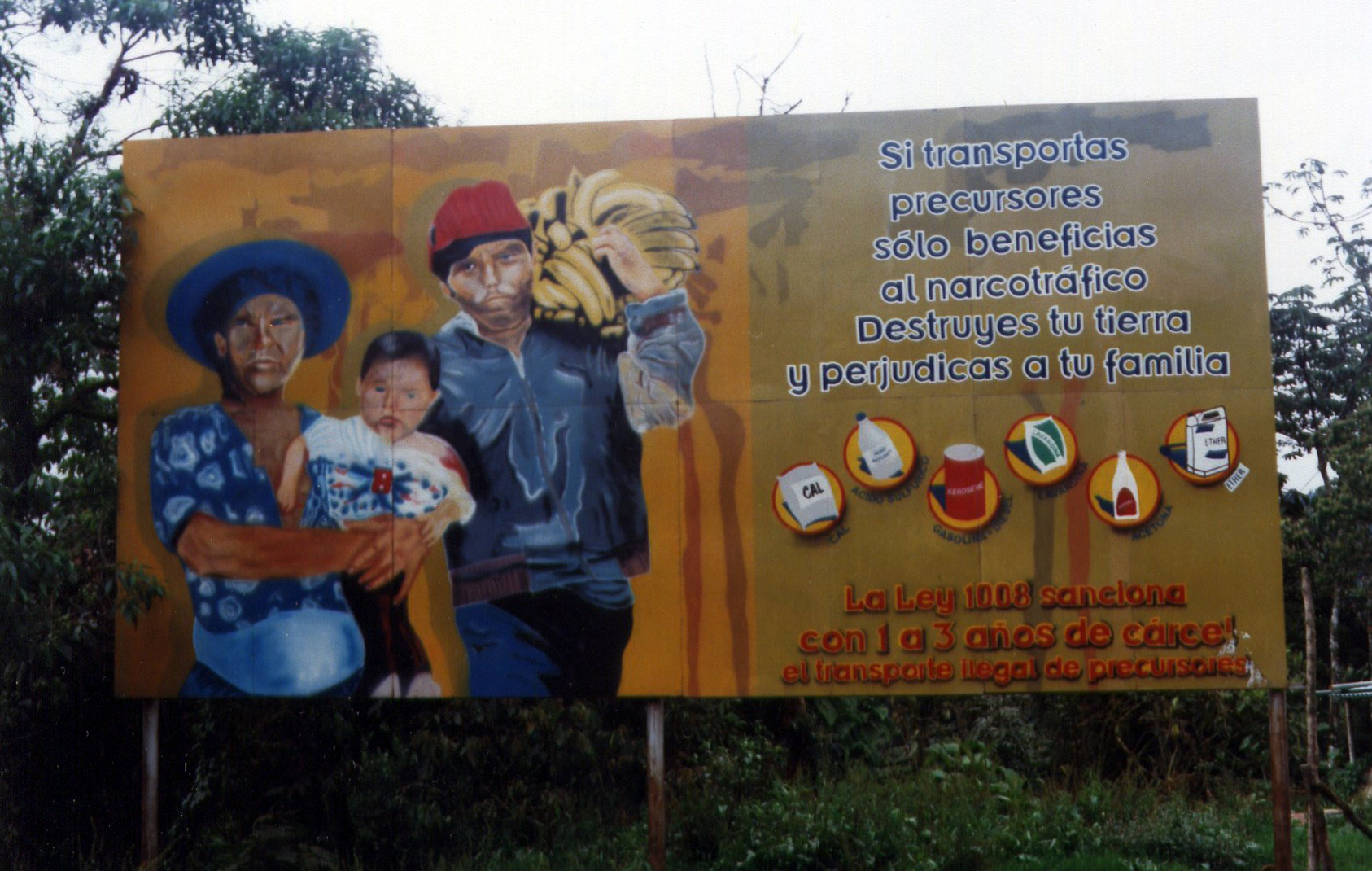 An anti-drugs tarfficking sign warns against bringing products used in cocaine production into the area © N Westland
Fast forward to 2014 and in fact to the weekend just gone. I was rummaging around in the loft and came across a dusty box of old copies of the Bolivian Times. Looking back through those papers, something struck me. Most of the stories I wrote were about human rights in one way or another, and the theme I returned to a few times was lack of justice for human rights abuses under the country's numerous dictatorships between 1964 and 1982.
During that time 150 people were forcibly disappeared, 200 executed, 5000 arbitrarily detained - many of them tortured - and thousands forced into exile. There has never been a truth commission to investigate and put on record what happened to them, and hardly anyone has been brought to justice.
Not only has this allowed the perpetrators of horrific human rights violations off scott free, but it has left families not knowing what happened to their loved ones and unable to finally close this chapter of their lives.
One of the oddest things to discover back when I arrived in Bolivia in 2000 was that the president at the time, Hugo Banzer, elected in 1997, was enjoying his second stint in power.
The first time round he had assumed the presidency after staging a military coup in 1971, ruling the country with an iron fist until 1978 when under pressure from the US he embarked on a slow and reluctant journey to democracy.
Under Banzer's democratic leadership, calls for him to be brought to justice for human rights abuses during his dictatorship grew. Former Chilean dictator Augusto Pinochet had been arrested in London in 1998, thanks to the work of Spanish judge Balthazar Garzón and human rights groups like Amnesty International. It was the first time a former head of state had been arrested under the principle of universal jurisdiction and it gave hope to many thousands of families of victims of other Latin American dictatorships.

But, an unsurprising lack of political will on Banzer's part (what politician would endorse an investigation into their own dark deeds?) meant that very little progress was made in bringing to justice those responsible for dictatorship-era human rights abuses.
However, a few years later, in March 2004 and now with President Carlos Mesa at the helm, a law was finally passed promising to honour those who were killed and disappeared, provide medical treatment for survivors and compensation for victims and their families. This was the first and only time an attempt has been made to deal with the past. Perhaps now justice would be done.
But a new Amnesty report out today marking ten years since that law was introduced finds that very little progress has been made, in part because military files remain classified thus blocking access to vital information.
Less than a third of the 6000 people who have asked to be recognised as victims under the 2004 law have been successful. Those whose applications have been accepted have only received 20 per cent of the compensation money promised.
But victims and their families say it is more about dignity for their loved ones and official recognition of what happened than money. A couple of months ago, a protestor who had taken part in the miners' strike that brought about an end to President Garcia Meza's regime in 1981 summed it up in an interview with a Bolivian newspaper: "Tell the authorities not to wipe us from the history books," she said.
Many victims are elderly and unless urgent steps are taken to address impunity they will die without recognition of what happened to them and their families and without the compensation they are entitled to by law.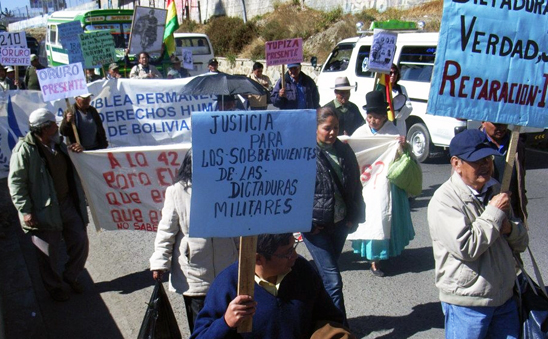 Demonstration by victims of military regimes in Bolivia, 2014 © Plataforma Luchadores Sociales
There is therefore a real risk that their stories will indeed be wiped from the history books. Not only that, but when perpetrators aren't brought to justice it sends a message to dictators everywhere that they can get away with whatever horrors they are inflicting on their people.
It looks as if there is just as much to write about in Bolivia today as there was when I stepped off that plane all those years ago. That's good if you're a journalist, but it's a different story for everyone else.
About Amnesty UK Blogs
Our blogs are written by Amnesty International staff, volunteers and other interested individuals, to encourage debate around human rights issues. They do not necessarily represent the views of Amnesty International.
View latest posts